Dark interiors can create an intense atmosphere that works well for modern designs, but they can feel uninspired without interesting details. Two homes offer inspiration on how to add stylish touches to dark grey and black interiors. The first home is a contemporary apartment with an open layout that features lattice panels adding bold texture and clear zoning to the living space. Designer lighting installations also create shapely interludes. The second example showcases luxurious marble elements that create a high-end look. Rich brown accents add warmth to the cool black and grey backdrop.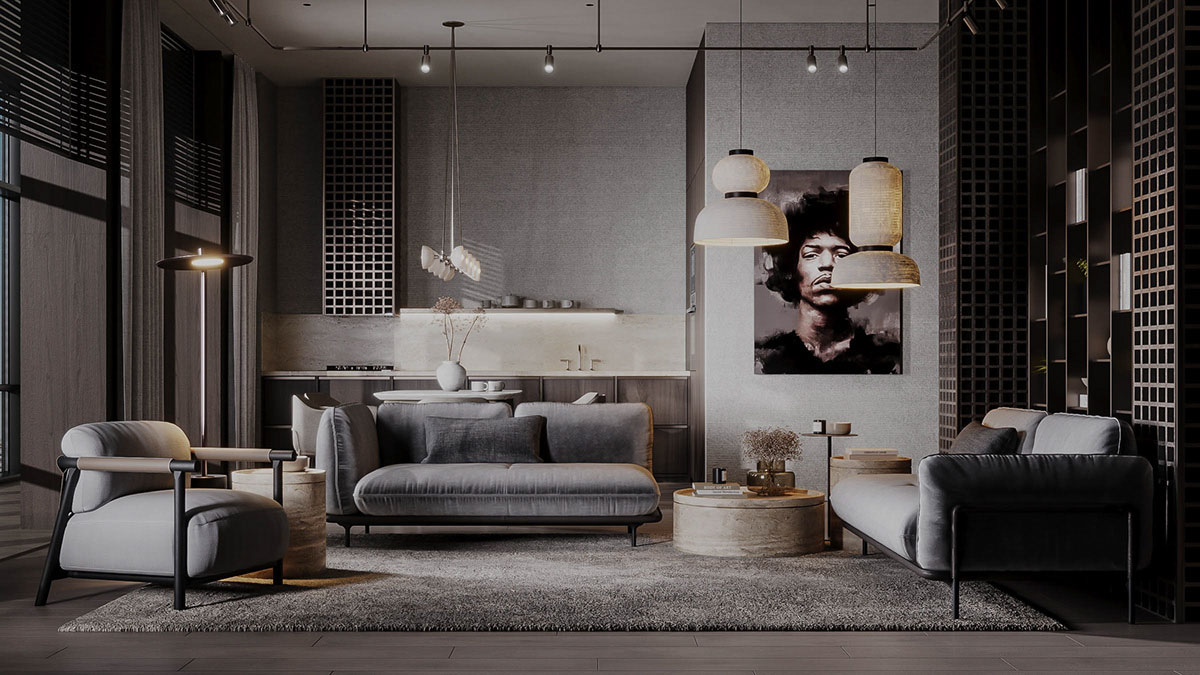 1 |Designer: Alex Sculdn
This living room is a visual treat, with various chic elements that catch the eye even in the dim lighting. The room's open-plan design features bold shapes balanced throughout the space, offering a seamless stream of captivating details.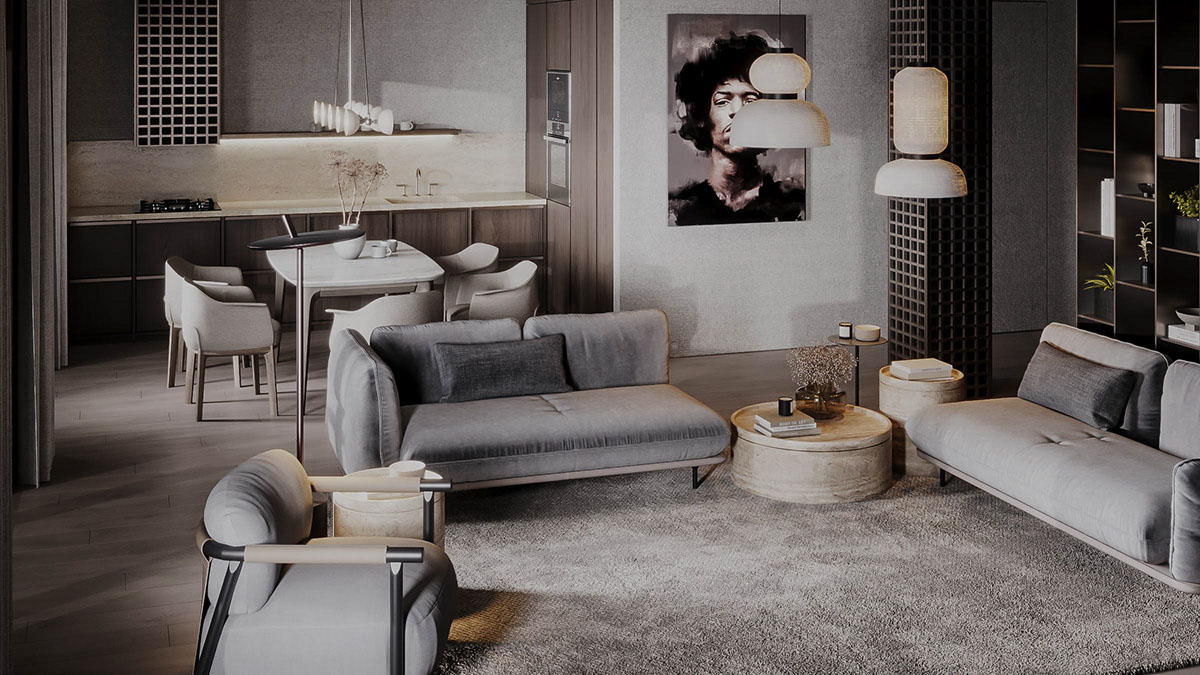 A support column is adorned with lattice panelling that transforms it into a decorative feature. The cladding adds texture and enhances the basic structure's aesthetic appeal. This lattice design is also incorporated into the open-plan kitchen layout, where it forms a distinct extraction hood.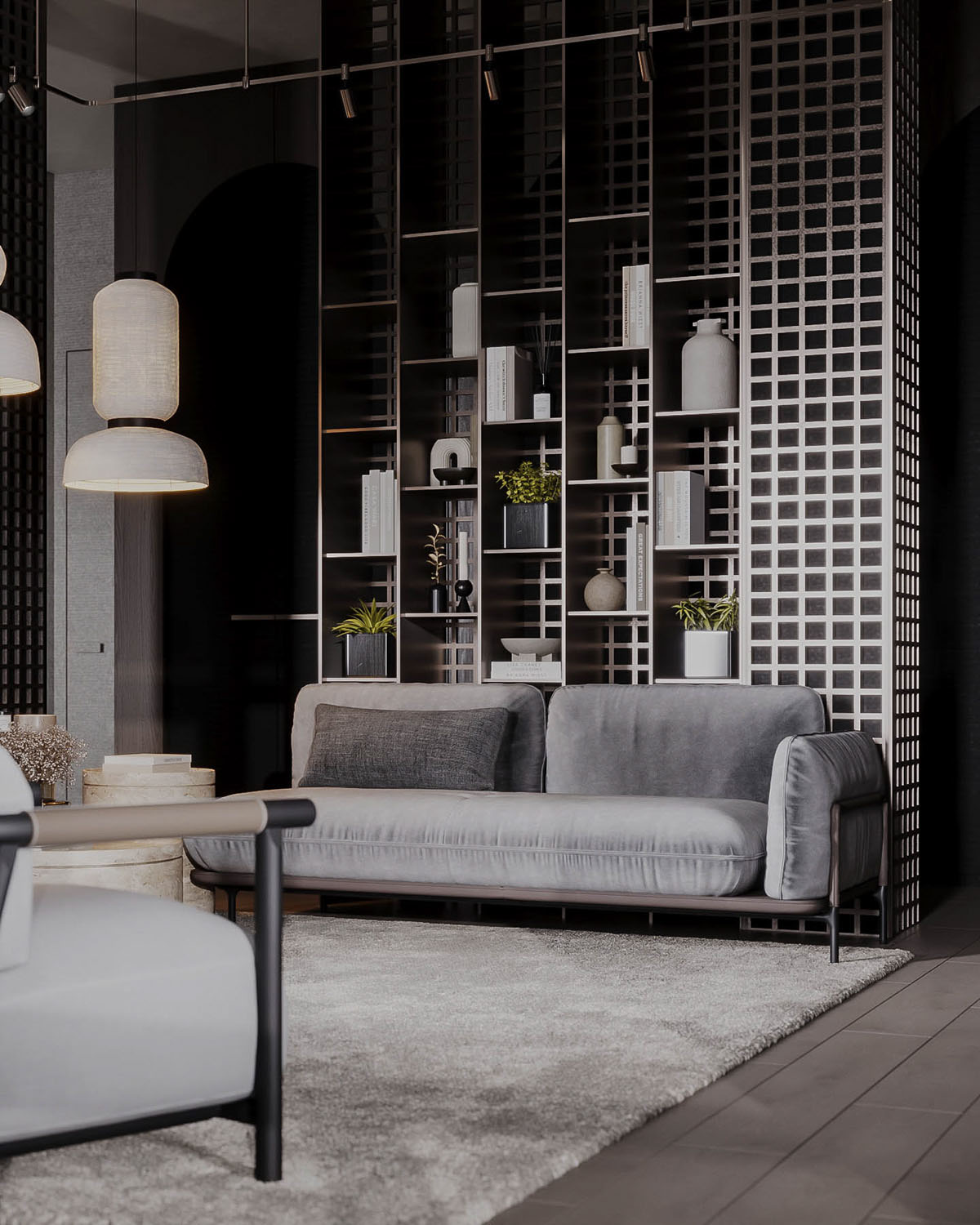 A contemporary bookshelf is cleverly combined with lattice screens to create a stylish and roomy divider between the living area and the hallway. To add a touch of comfort, a light-colored grey rug adds a warm and inviting feel to the otherwise dark living room.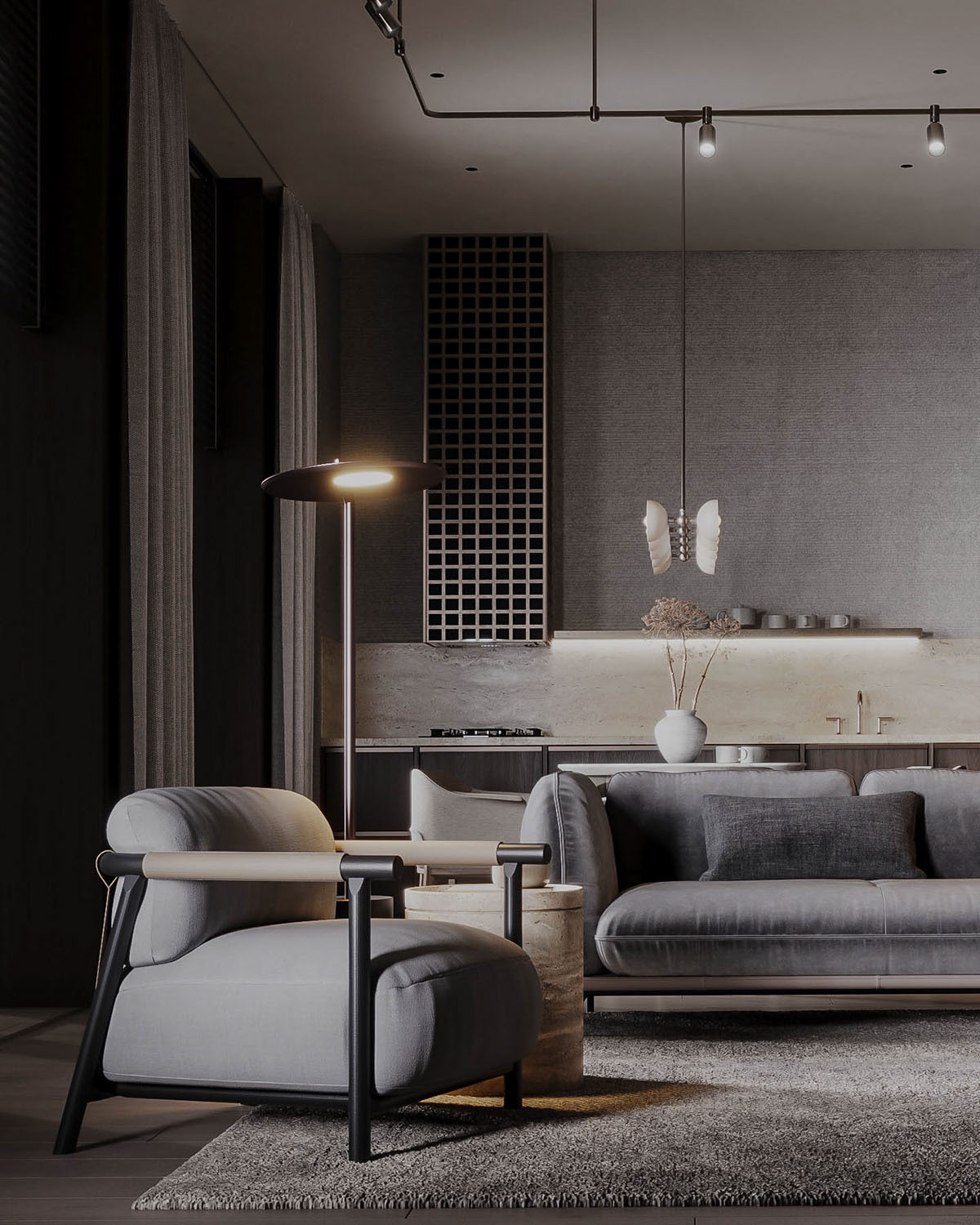 Combining a cozy lounge chair with a modern floor lamp creates the perfect spot for reading.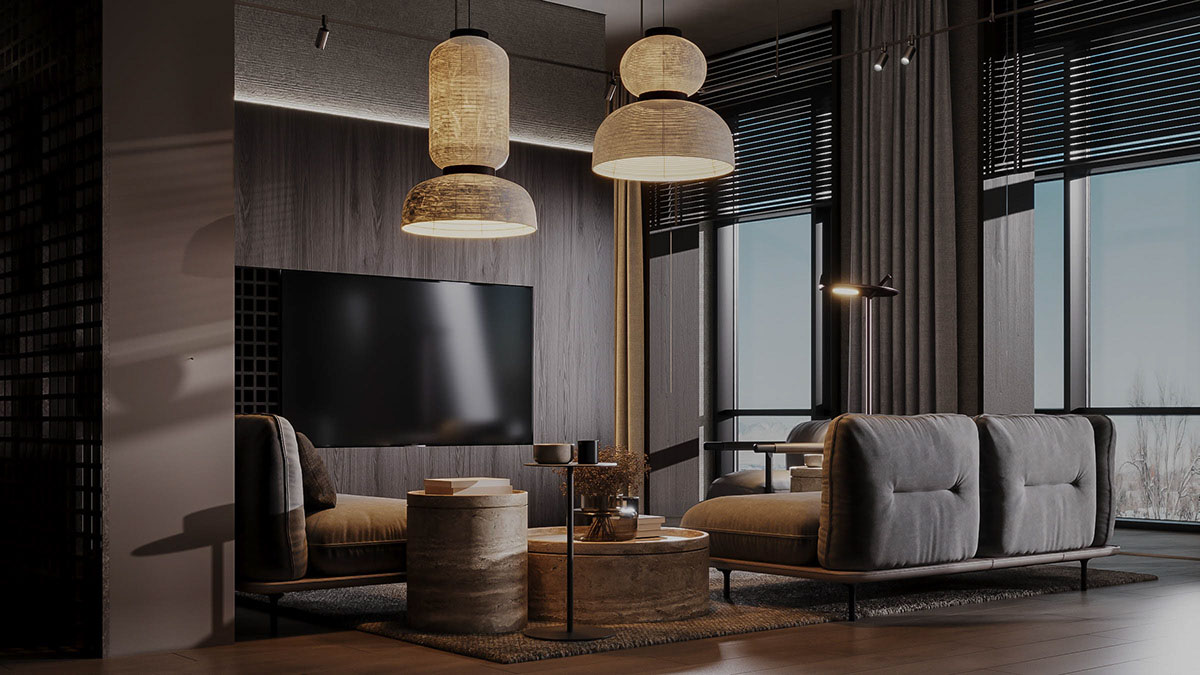 You can separate the modular sections of your sofa to create a new setup that includes some circular coffee tables and a slim side table.
The collection of tables is accentuated by a contemporary piece of art that serves as the centerpiece.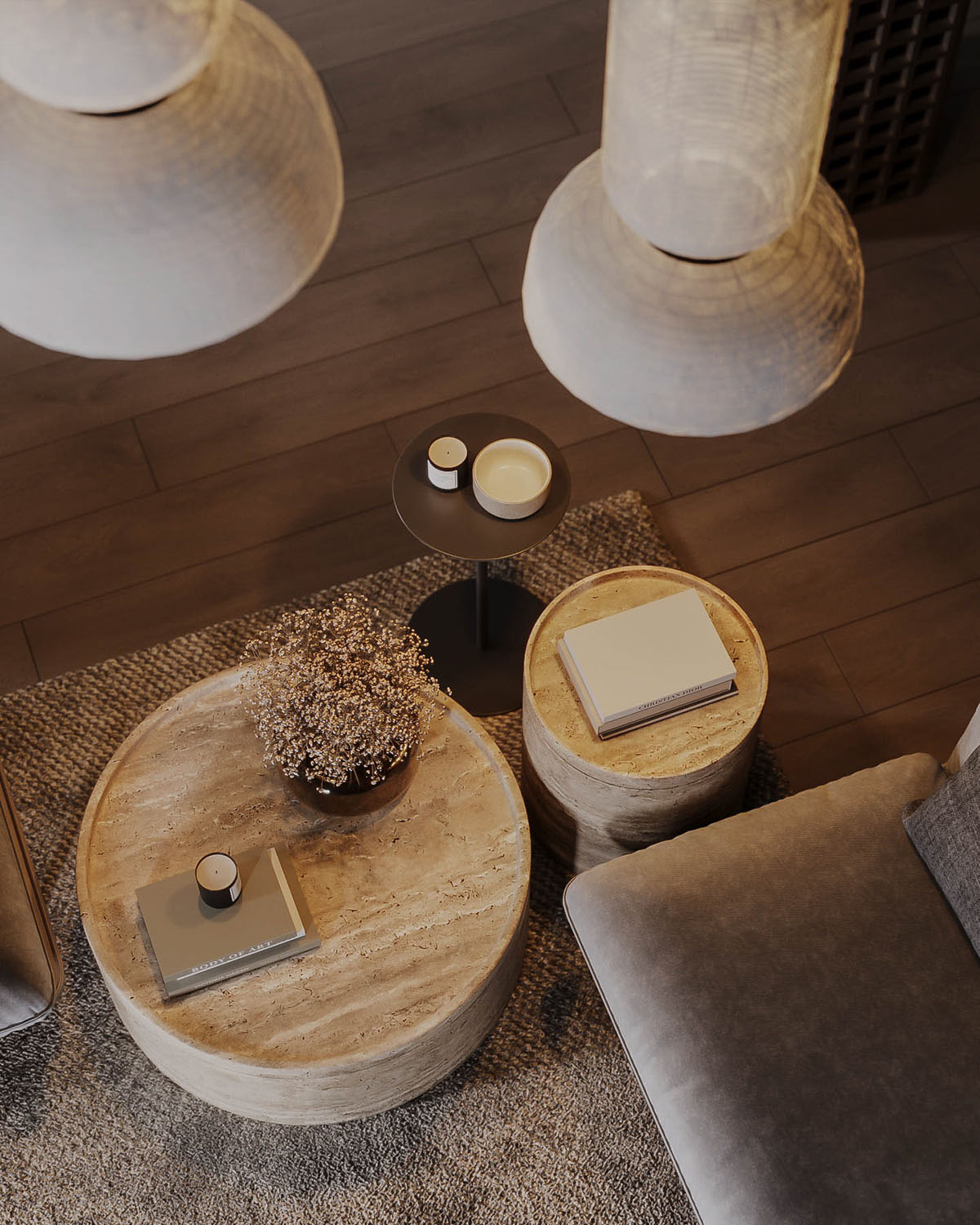 Small and stylish centerpieces can be created using coffee table books, a large glass vase, and candles.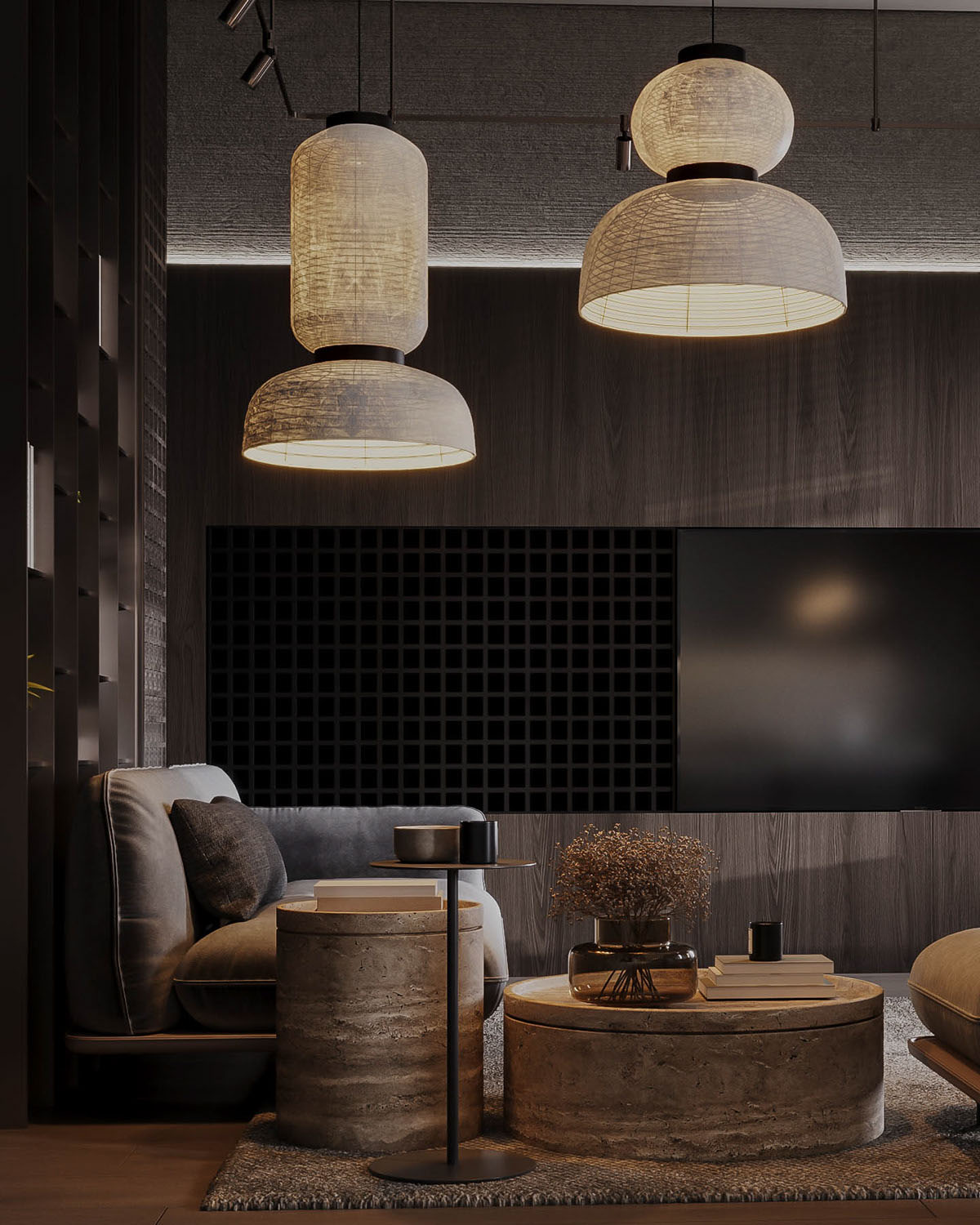 In the living room, there are two eye-catching pendant lights hanging over the table. They are the Formakami pendant lights designed by Jaime Hayón for Tradition.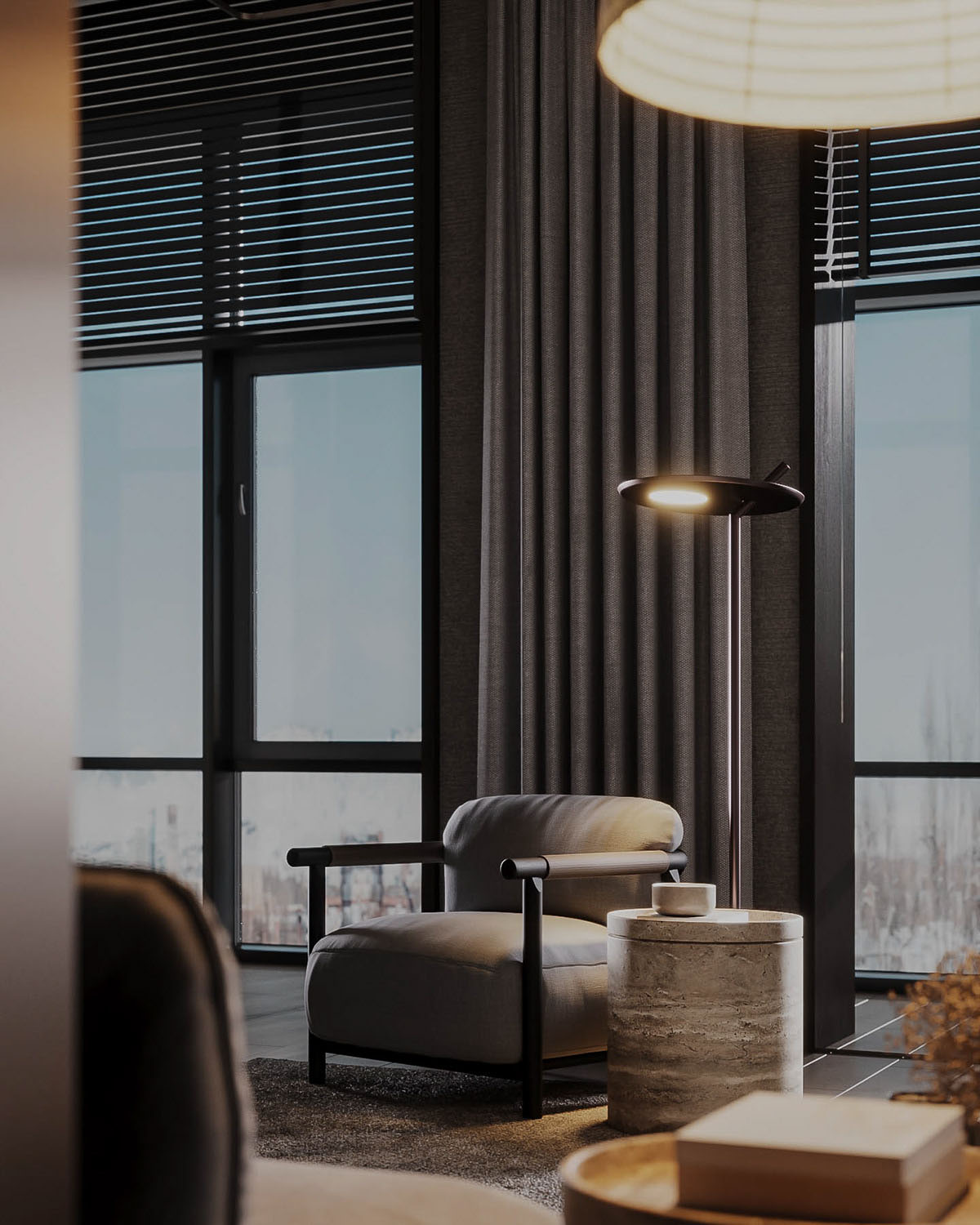 The spacious living room windows are adorned with Venetian blinds and drapes in a deep black and dark grey palette.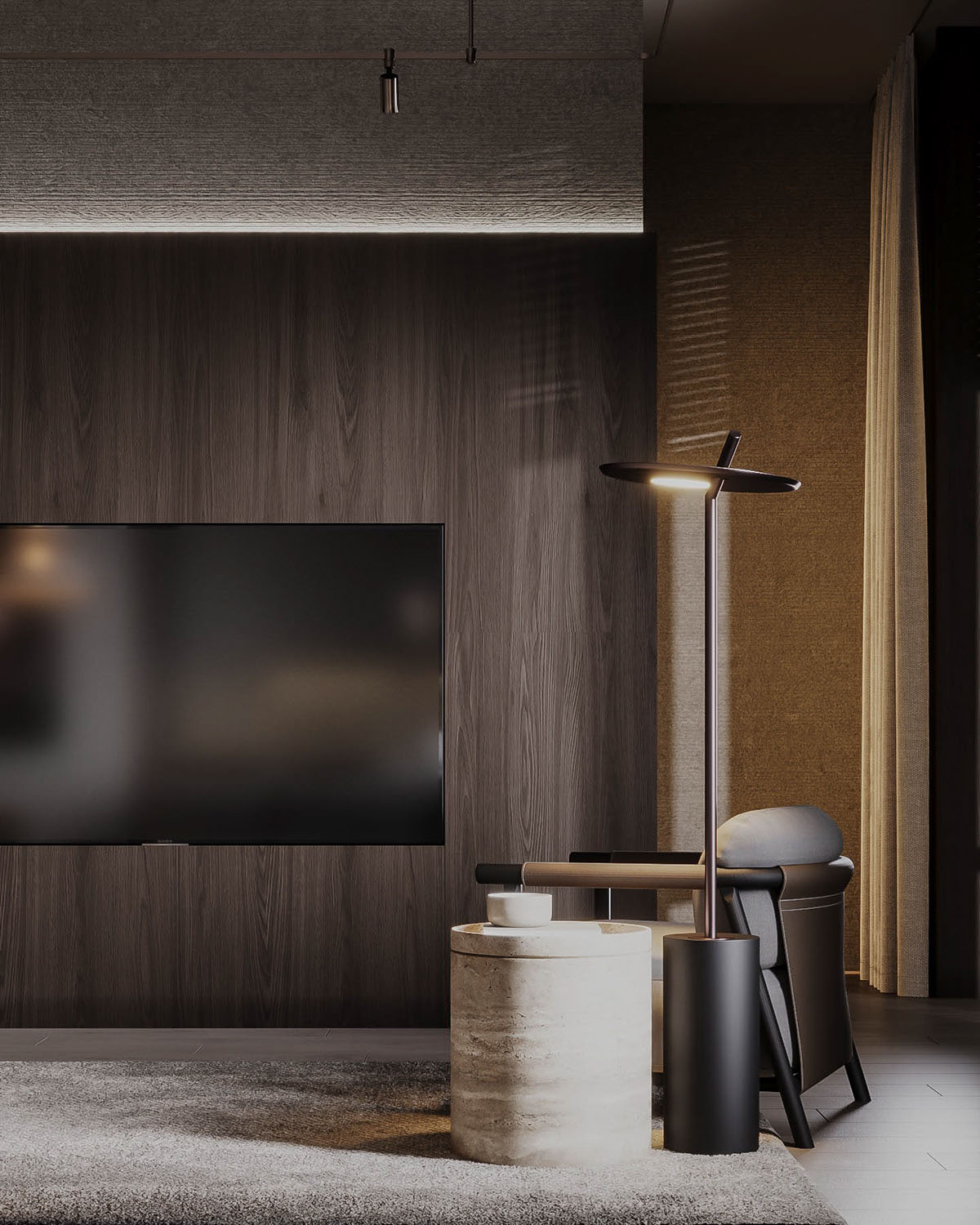 The wall behind the TV is given a textured and dark appearance with panels that resemble the look of walnut wood.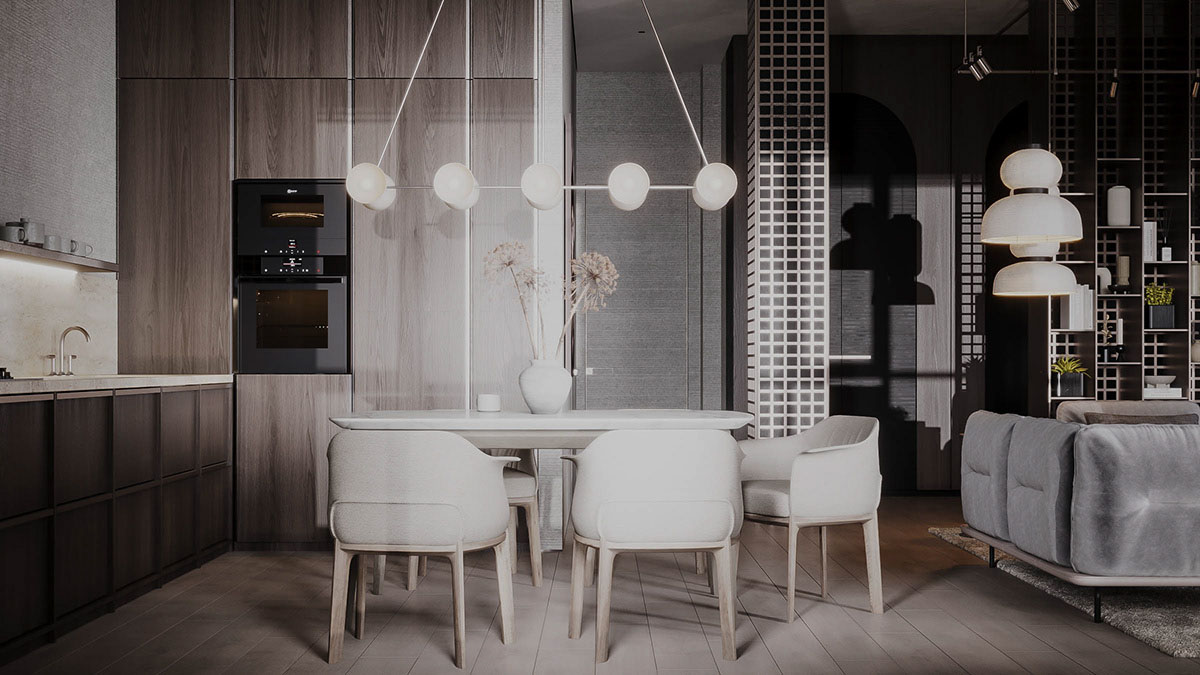 The kitchen installation forms an L-shape and surrounds the formal dining area.
A sleek pendant light with a modern feel dangles gracefully over the stunning marble dining table, while comfy dining chairs can accommodate up to five individuals.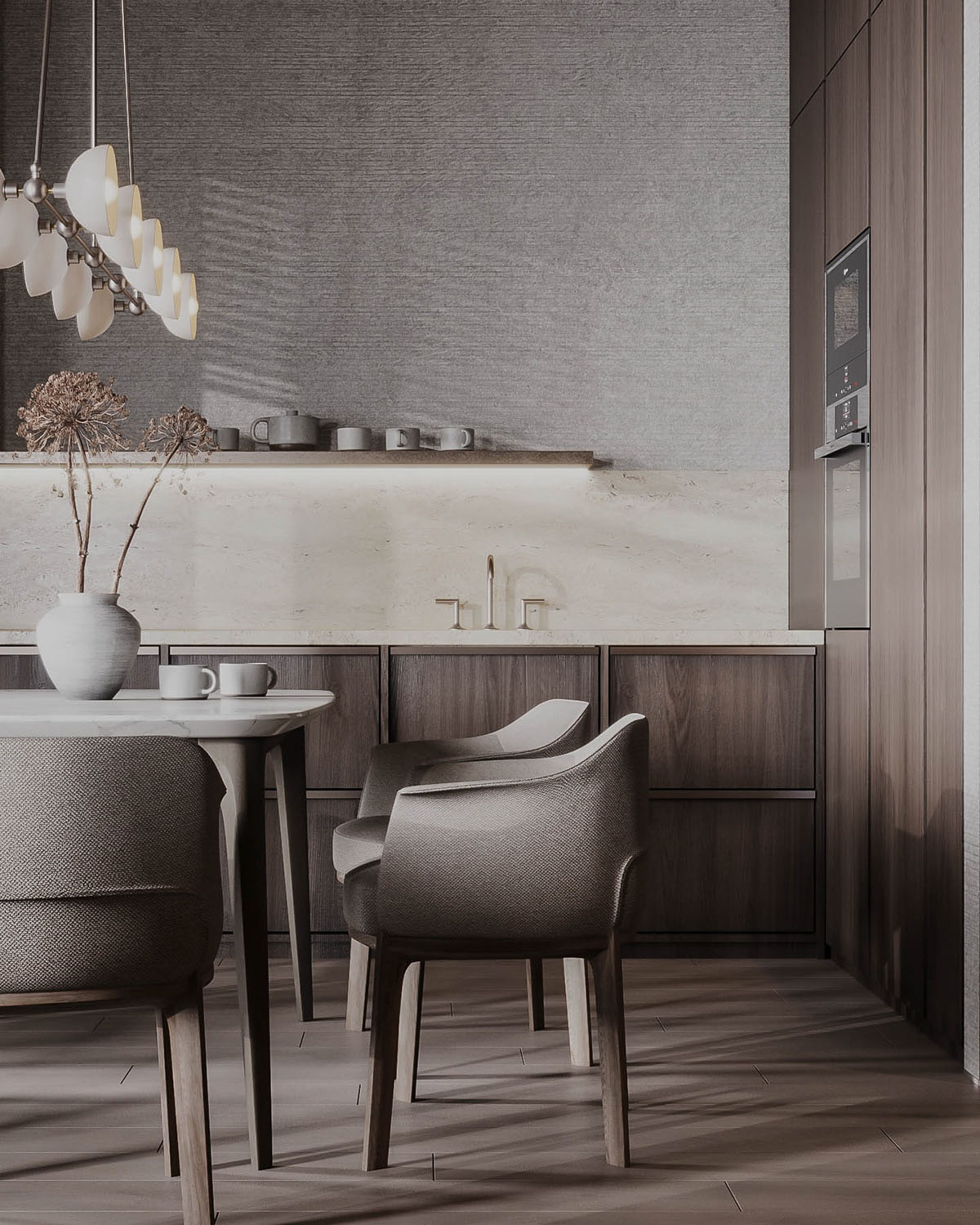 The dining table's fourth side is seat-free, creating more room in the kitchen area.
A ceramic vase can be a great choice for adding a touch of elegance to your dining table. It can serve as a simple yet beautiful centrepiece that enhances the overall aesthetic appeal of your dining space.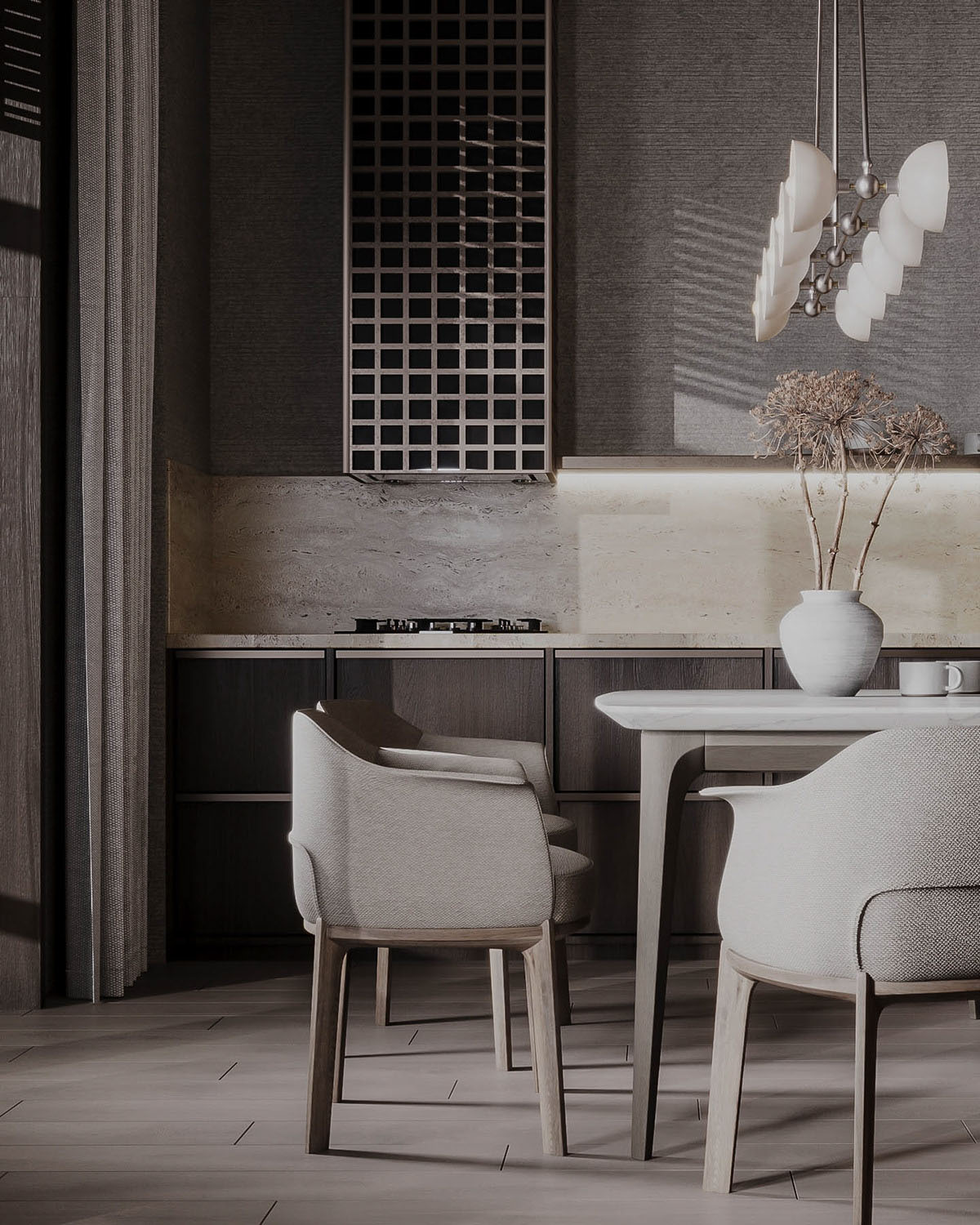 The kitchen featuring walnut design perfectly blends with the wooden TV wall, creating a cohesive and harmonious look. A beautiful light grey stone backsplash adds a distinctive touch to the kitchen, separating it from the dark background.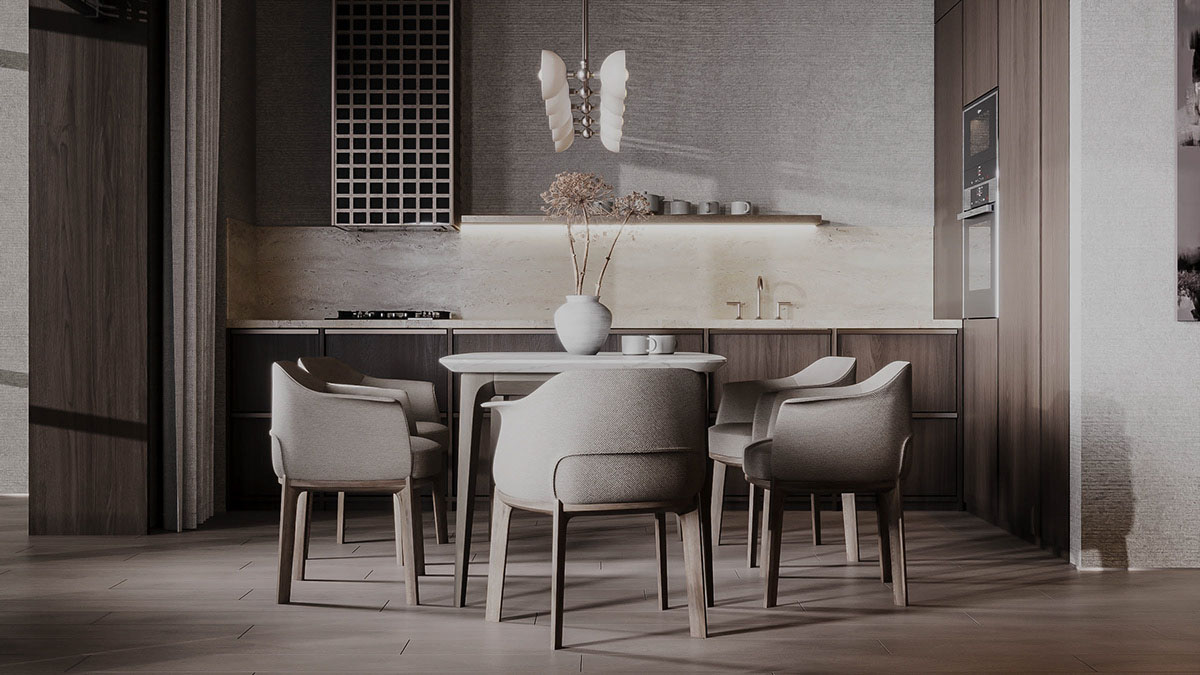 Having an open kitchen shelf with a strip of LED light can add flair to your kitchen's style. Not only does it catch the eye, but it also serves as a helpful light source while doing tasks over the sink.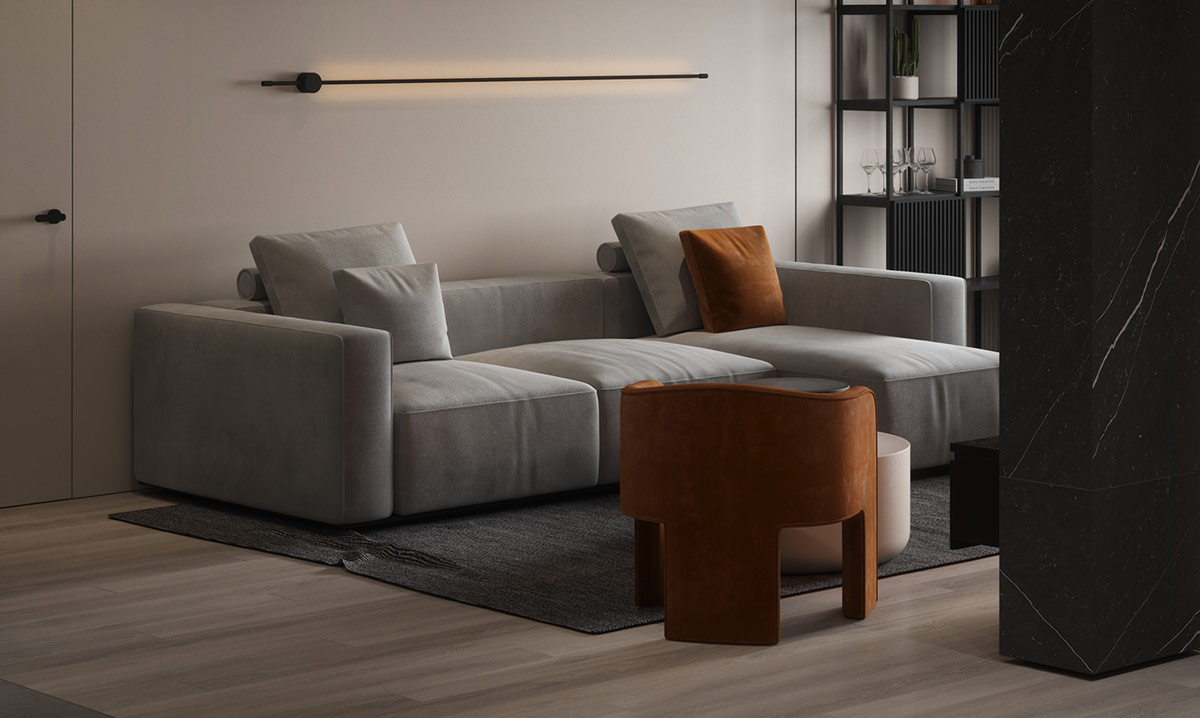 Yanina Filippova, the visualizer, has showcased a 110-square-metre apartment that features a unique decor scheme. The predominant use of dark grey and black hues is balanced with splashes of rich brown accents to create an interesting contrast.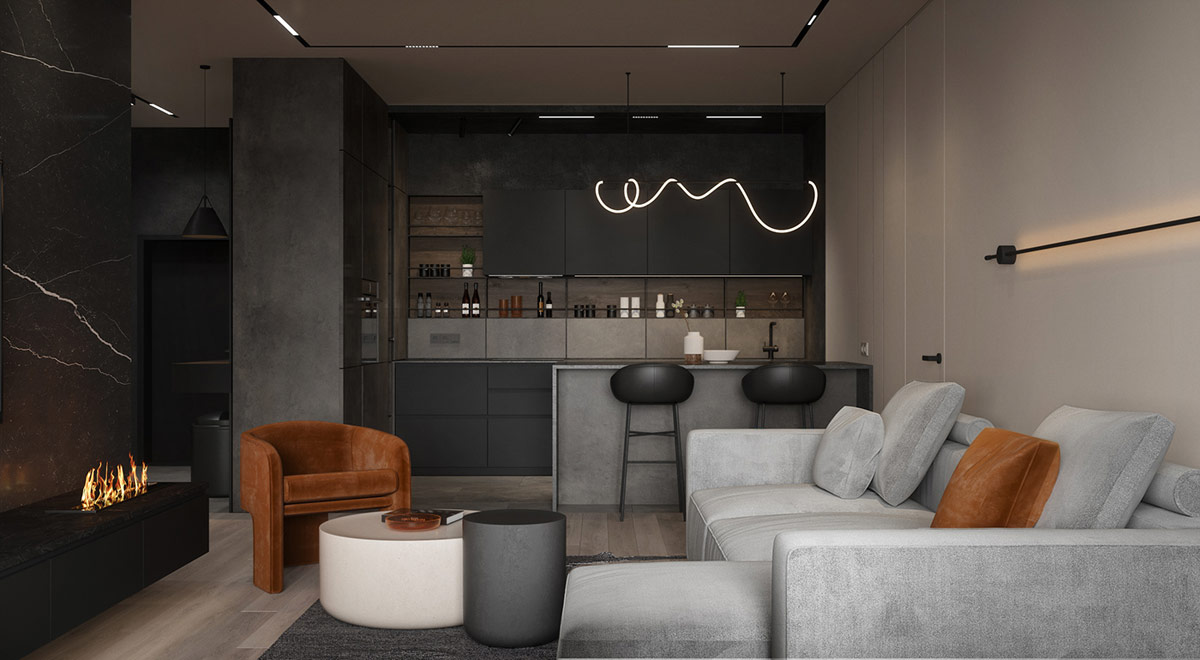 A comfortable lounge chair in a rich shade of brown, placed beside a sleek and contemporary fireplace, creates a warm and inviting space to unwind. The monotony of the grey sofa upholstery is softened with the addition of scattered brown cushions.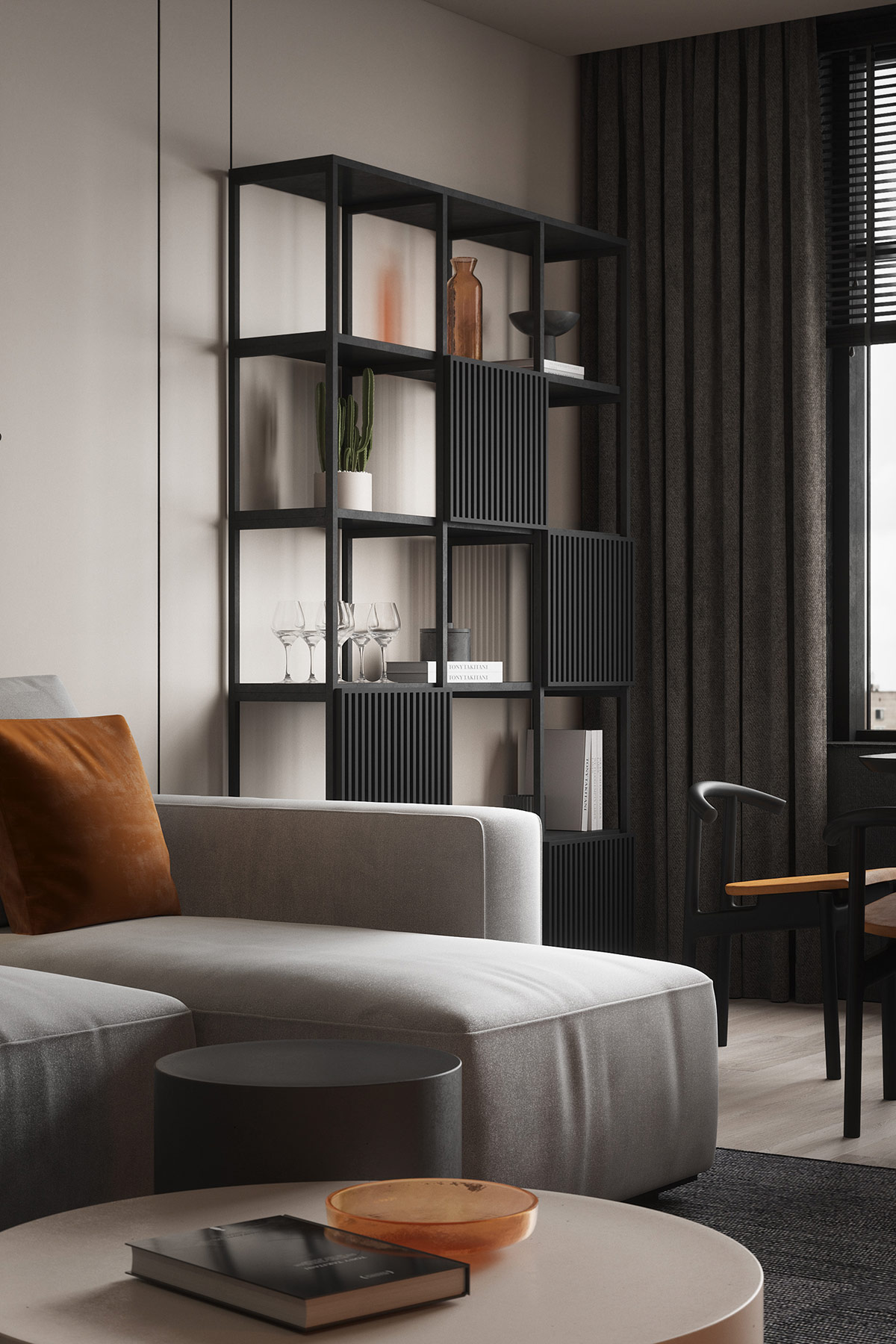 The grey coffee table at the center of the room gets a touch of warmth from a lovely decorative bowl in brown.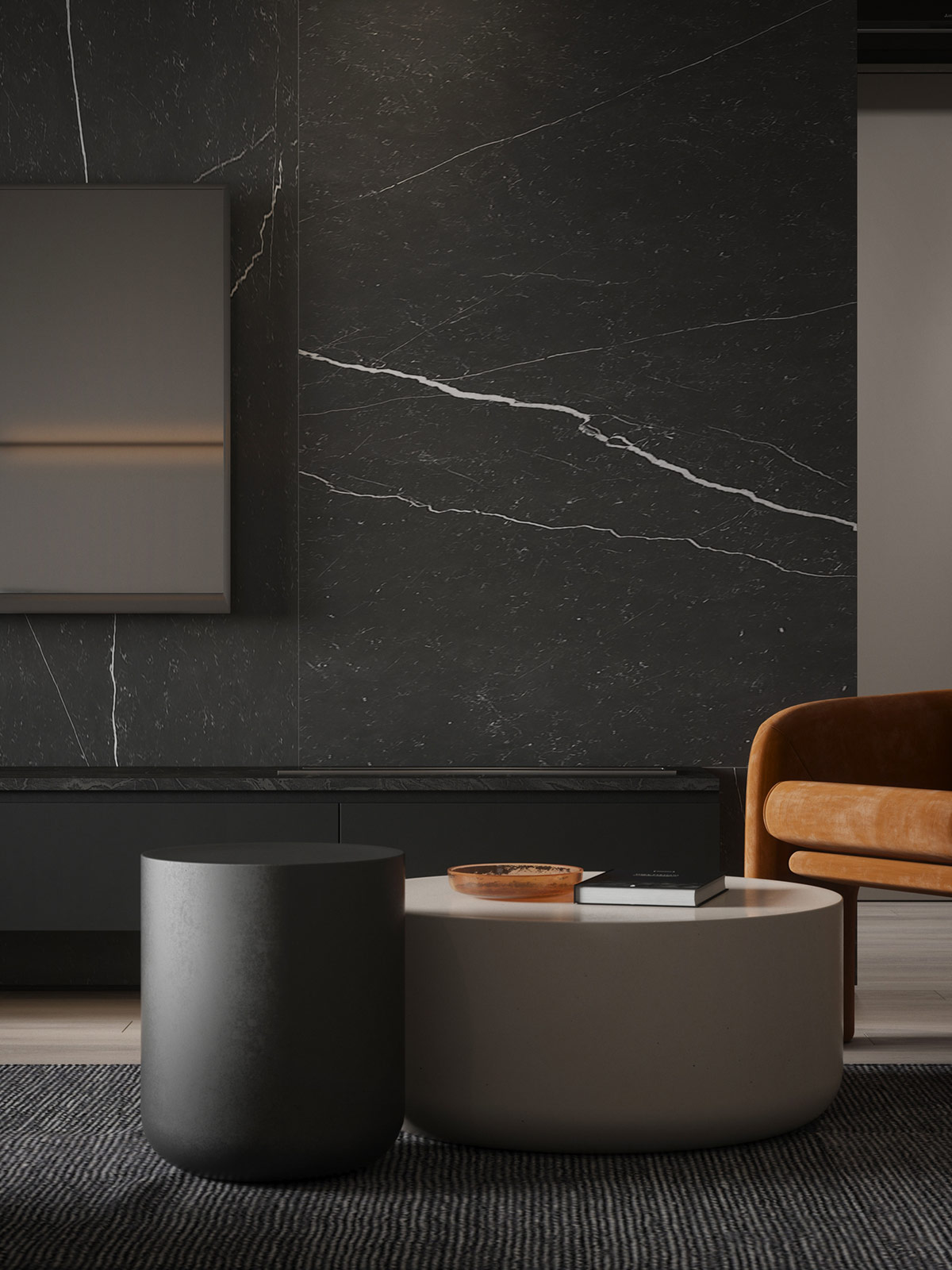 The coffee table in a soft shade of grey is paired with a sleek black counterpart to create an eye-catching contrast.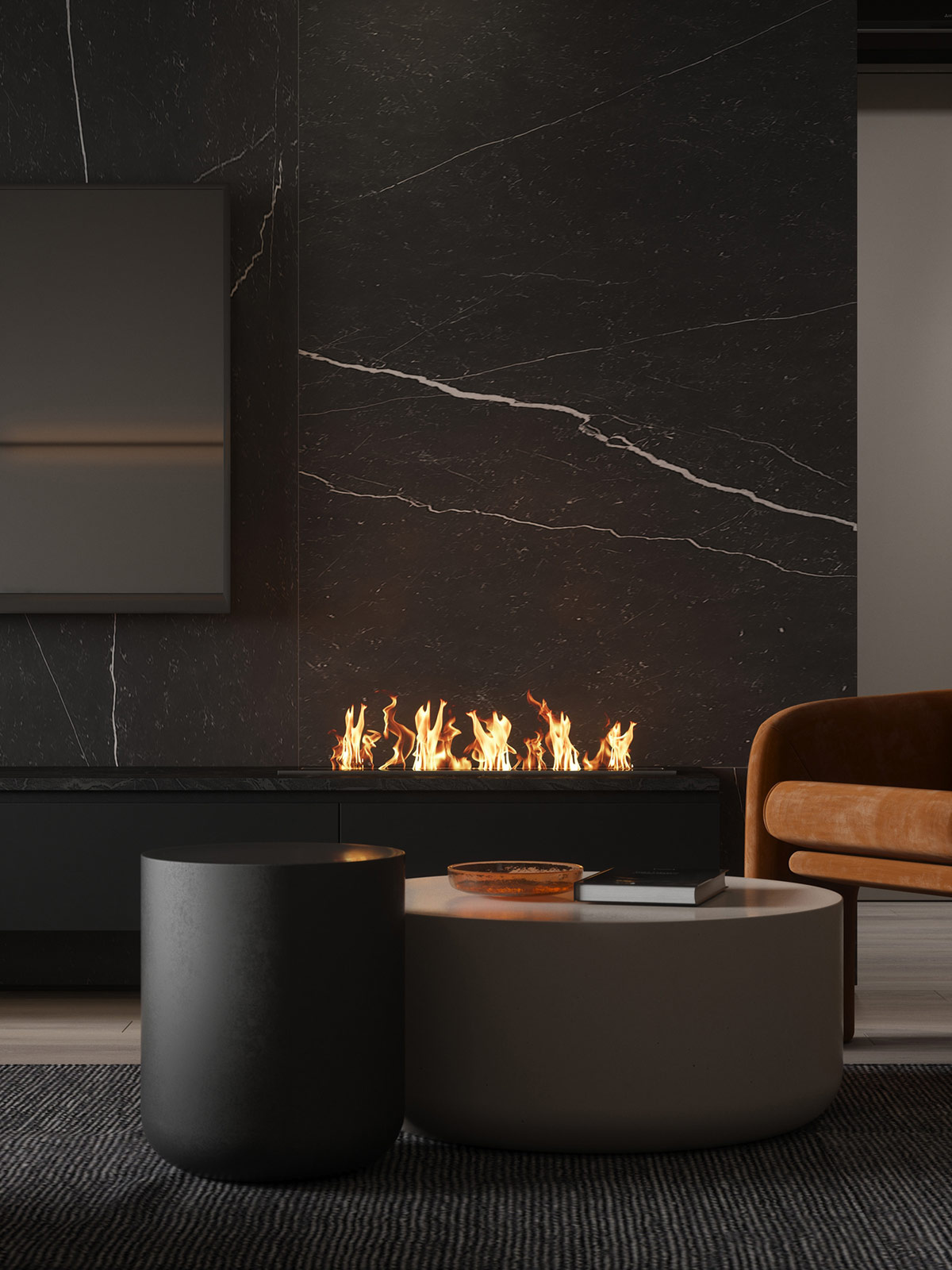 The contemporary fireplace features a stunning linear design that complements its beautiful flames. Its luxurious statement wall is enhanced by the black marble panels rising behind it.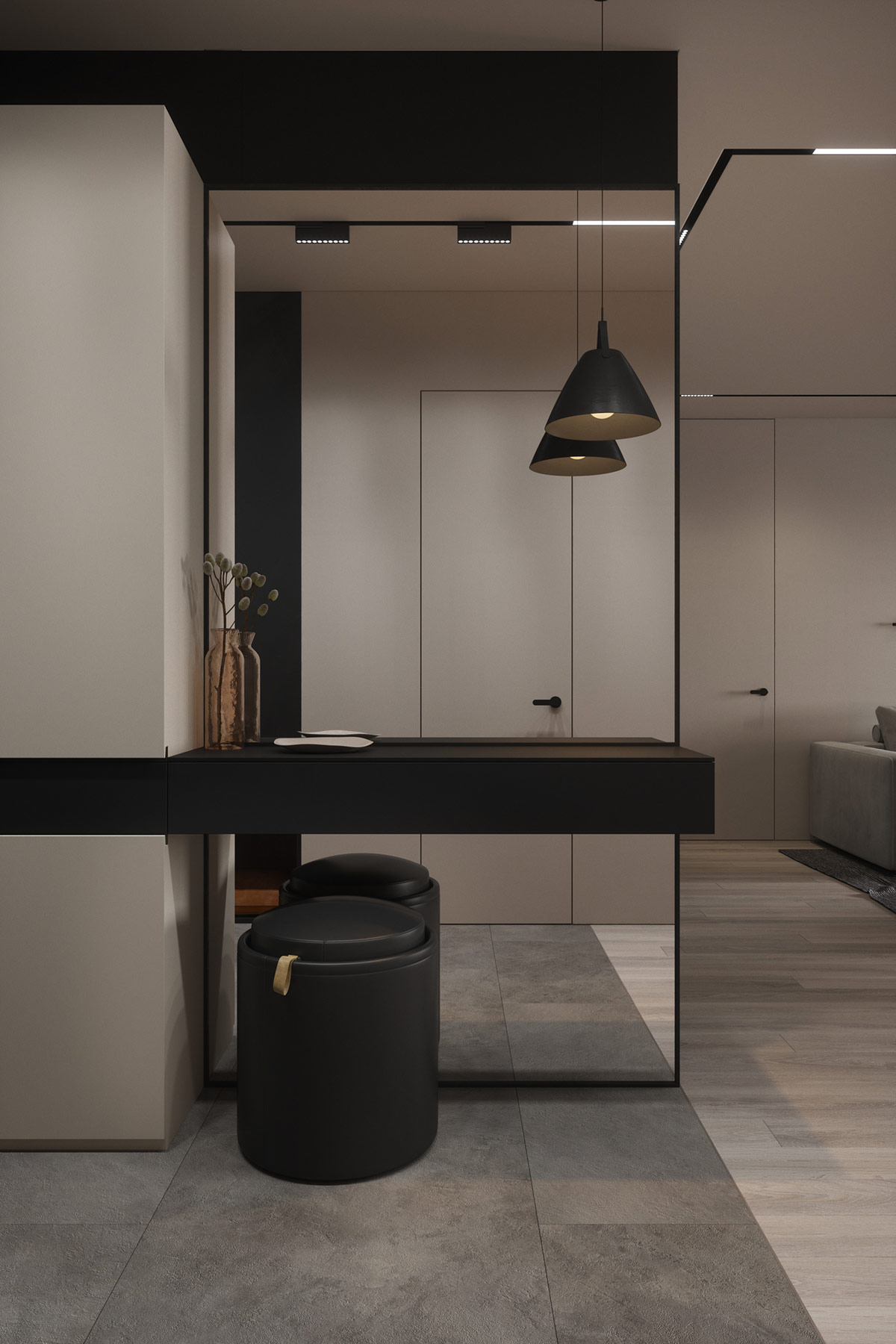 As you step into the welcoming entrance of this home, you'll notice a change in flooring from a cool-toned wood laminate to oversized tiles in a matching grey hue. The small space is made to feel more expansive with the addition of a full-length mirror that has been specifically tailored for the area. The mirror also helps to reflect light and brighten up the space.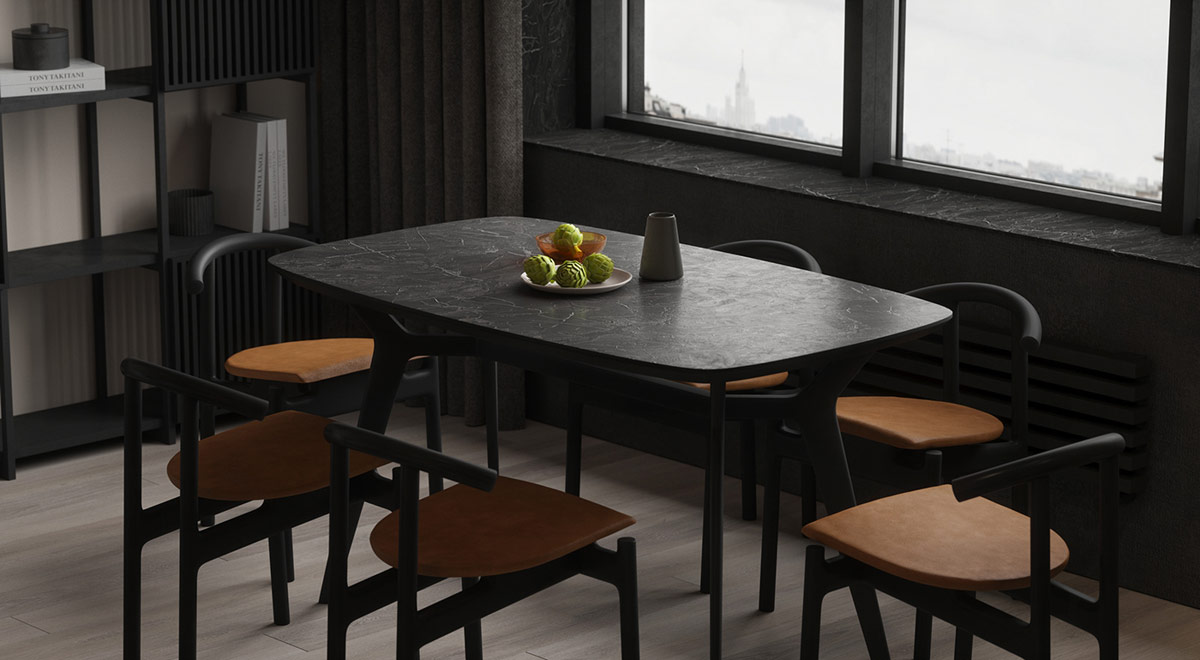 The dining area boasts a stylish appeal with its textured stone table that complements the black stone cladding surrounding the window. The table is paired with six dining chairs that feature contemporary design, and they are in black color with brown accents.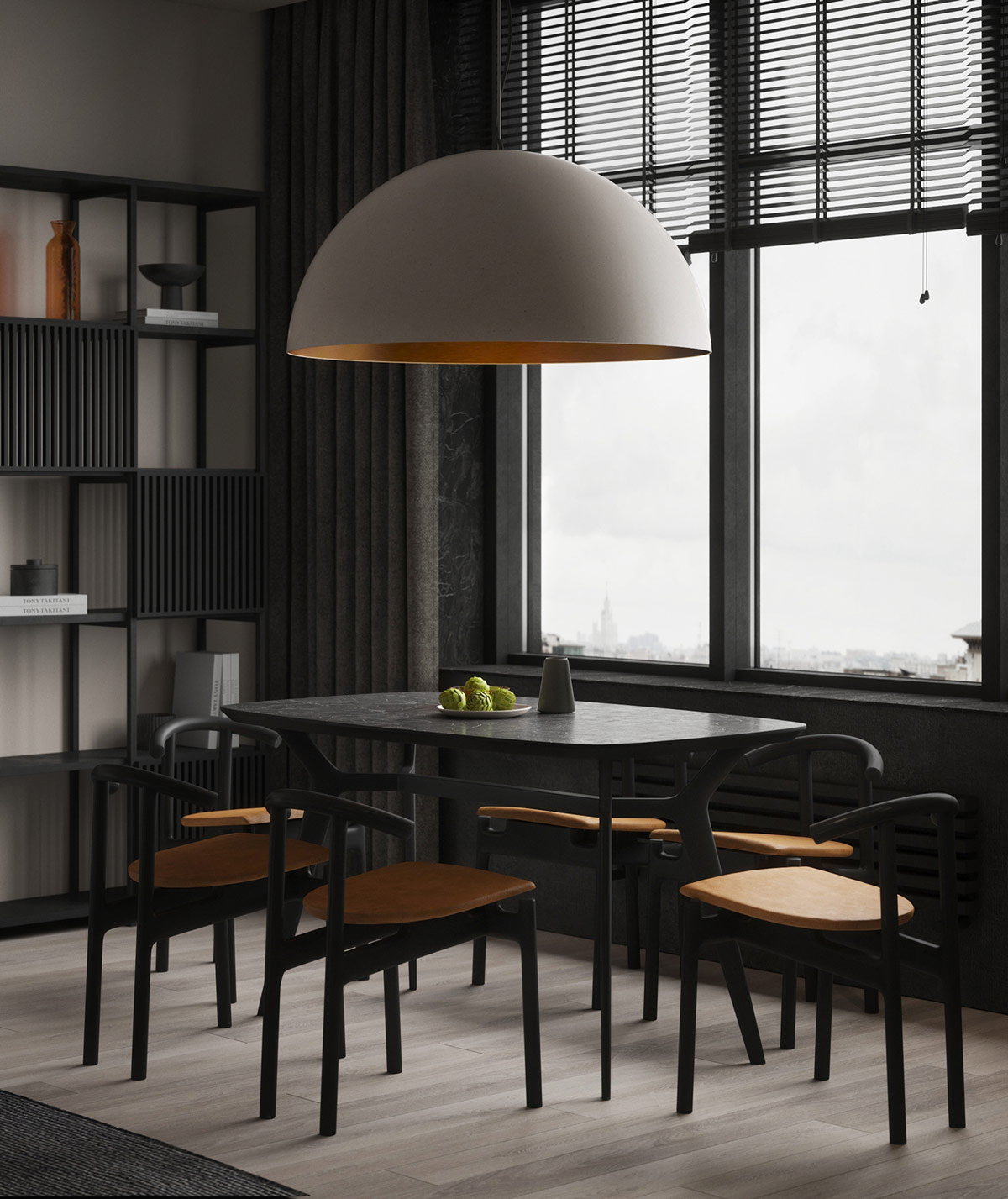 A massive pendant light hanging over a dining table is sure to catch your eye.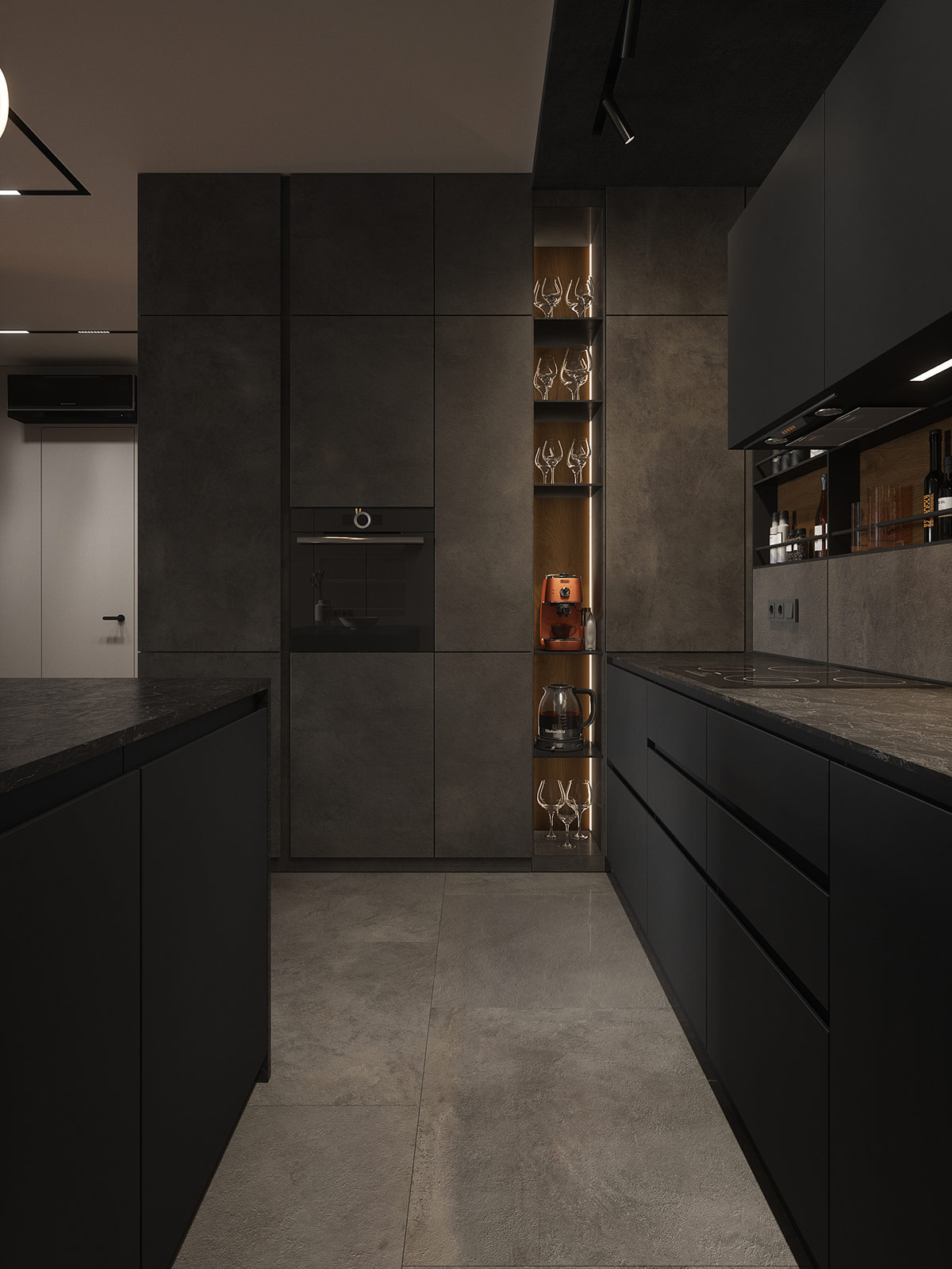 The kitchen, painted in black, boasts wine glass display shelves that are illuminated by LED strips, resulting in a striking vertical beam of light.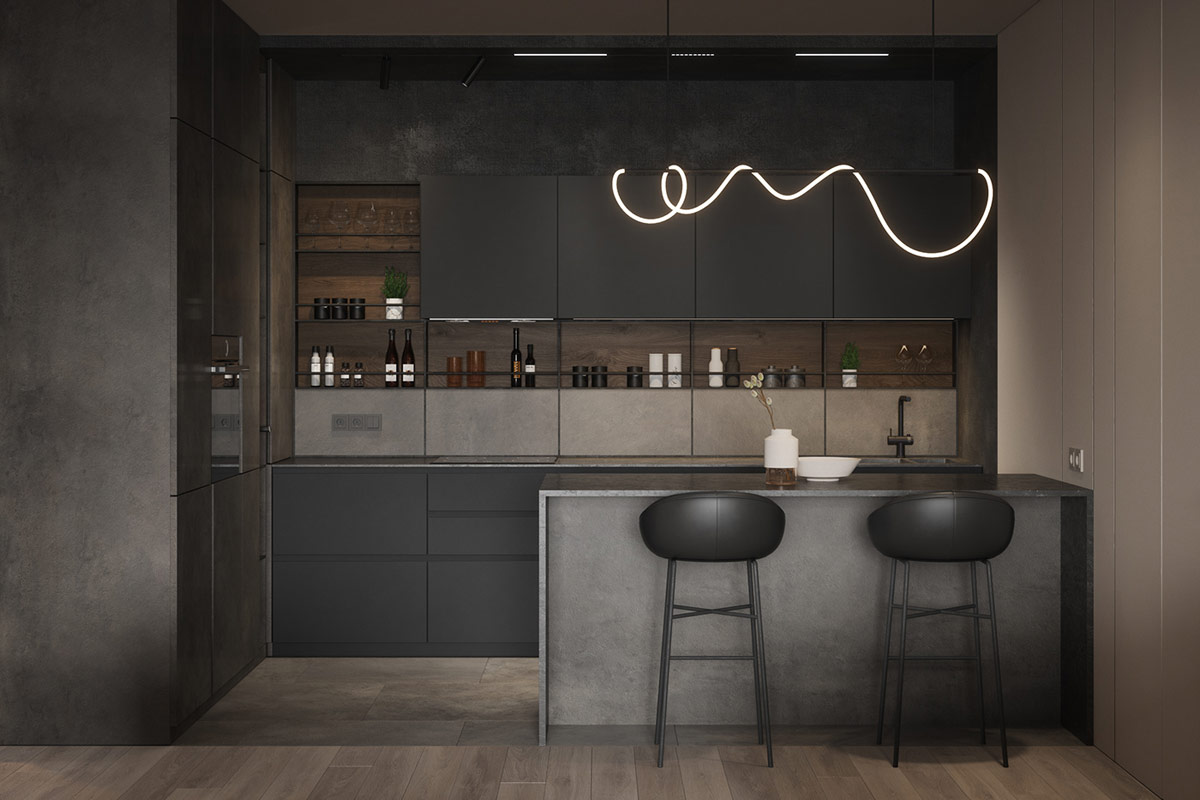 At the kitchen peninsula, there are a couple of sleek black bar stools that create an inviting breakfast bar. The modern and stylish linear pendant light hanging above adds a striking touch to the overall aesthetic of the space.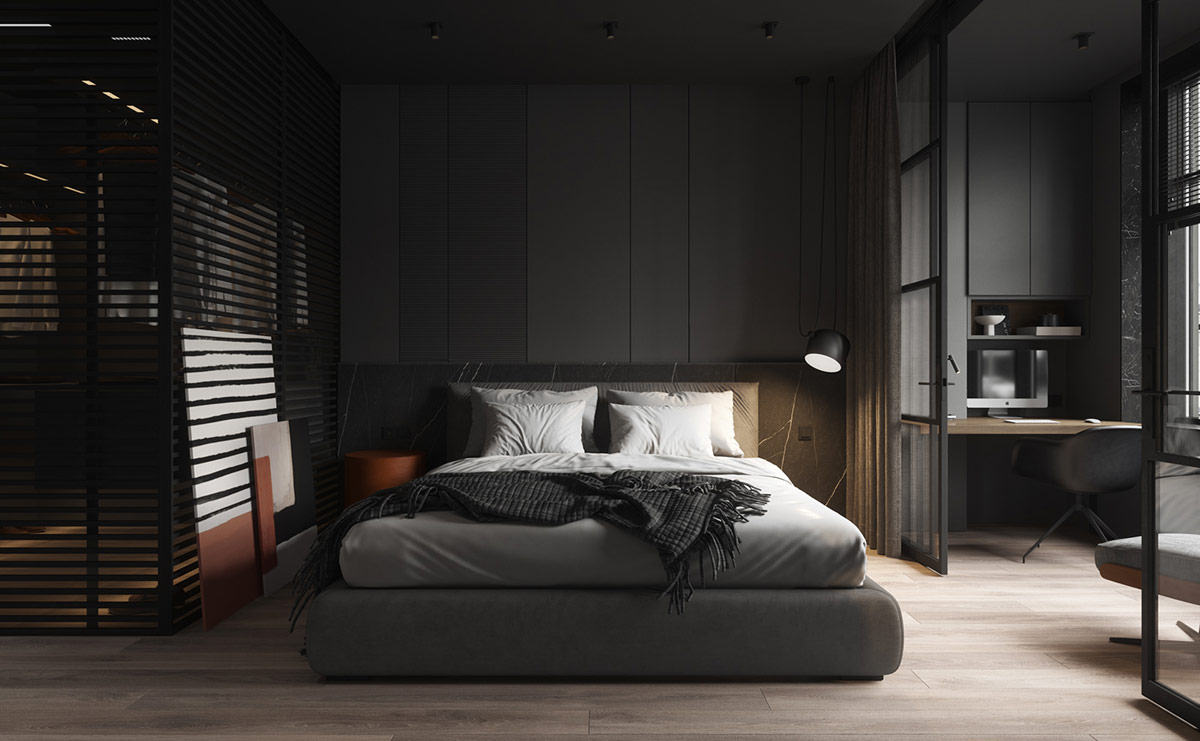 The master suite features a comfortable bed that is upholstered and has a black marble headboard wall. The stone's natural vein is highlighted by a pendant light in the bedroom.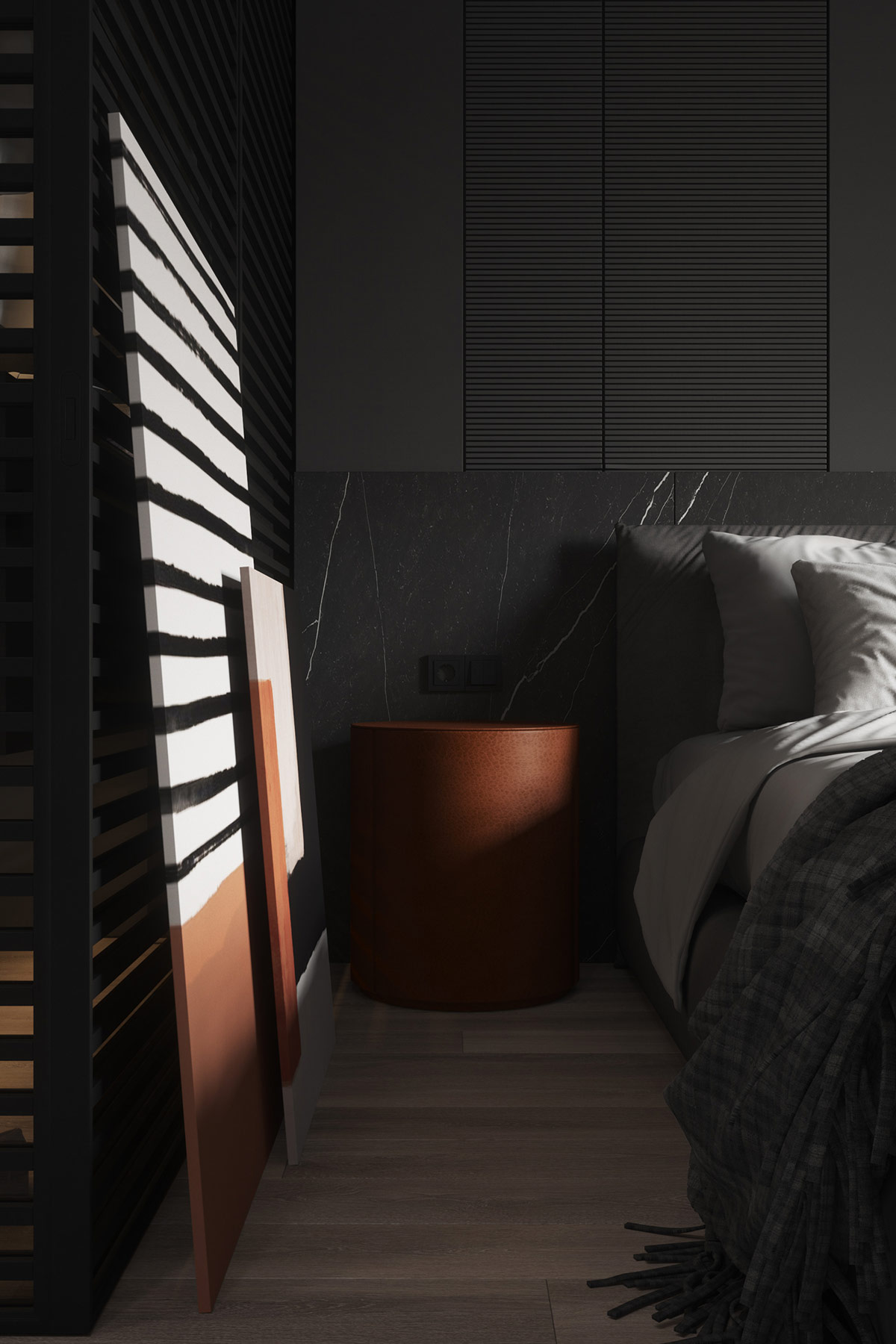 The brown bedside table provides a cozy contrast against the sleek black marble background. The modern artwork strategically placed around the room incorporates the brown accent color, tying the whole space together.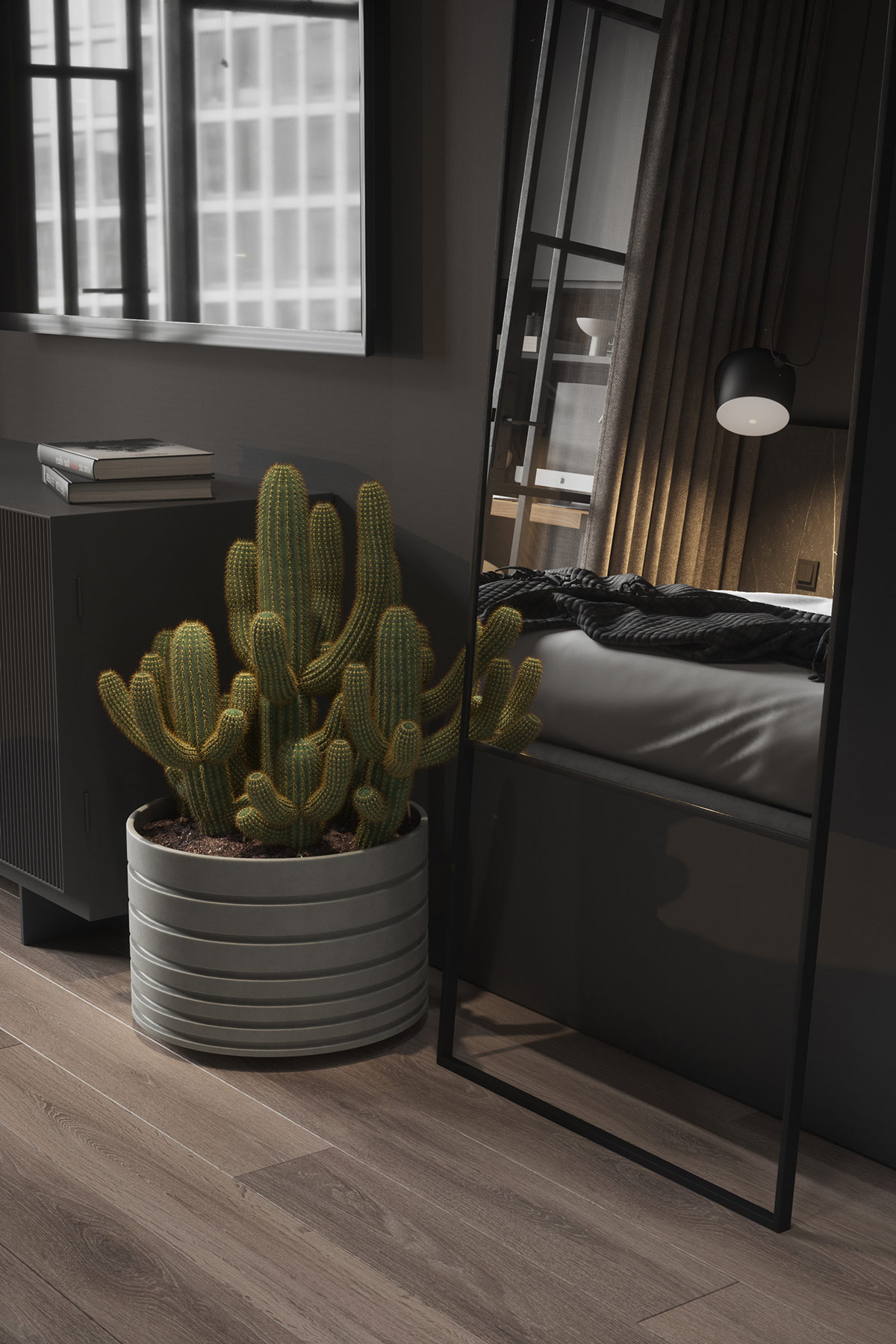 Having a full-length mirror at the foot of the bed is a great way to create a useful dressing area. To add some life to a darker decor scheme, indoor plants can really make a difference and lift the overall mood of the room.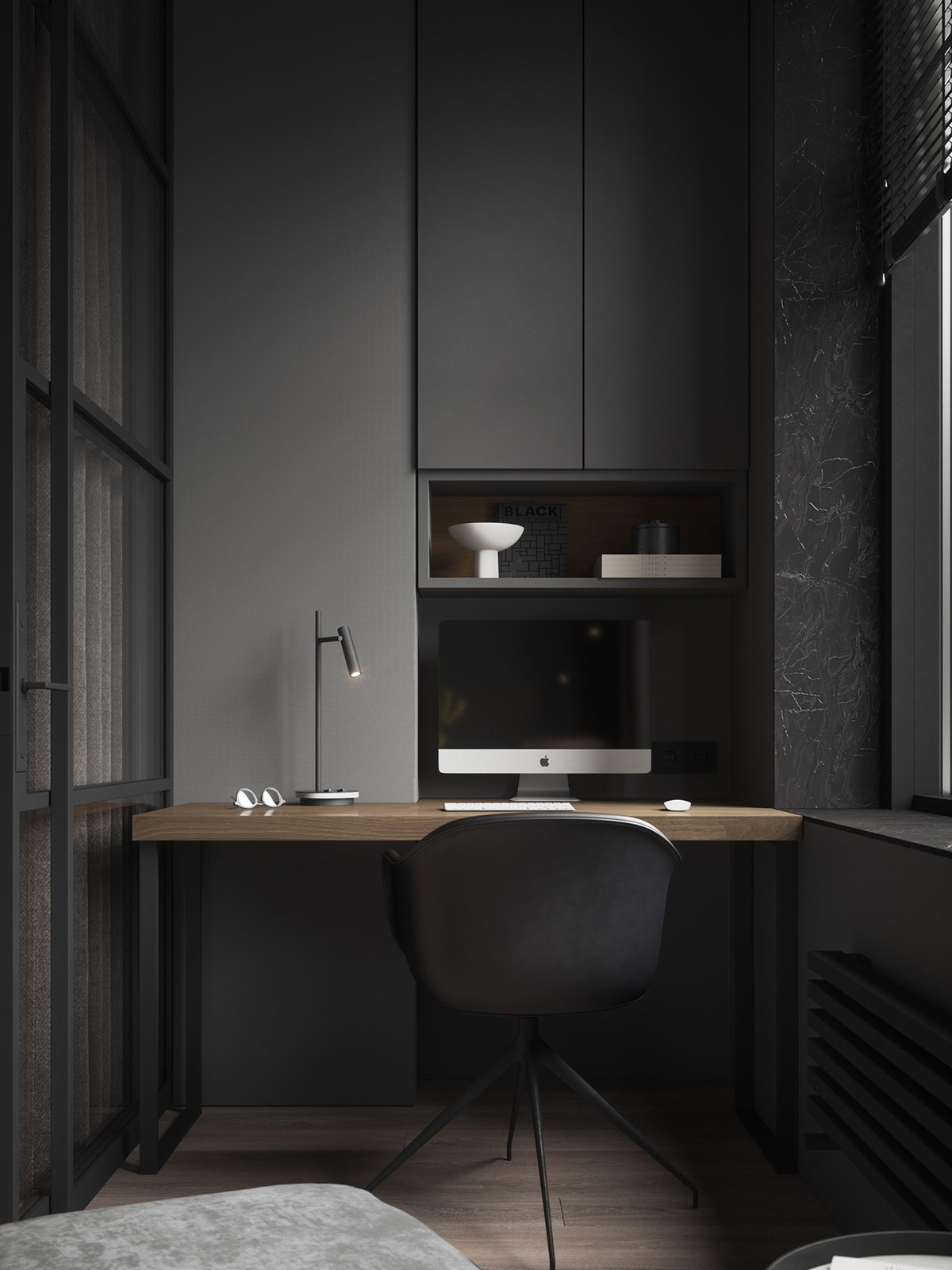 The bedroom and home workspace are separated by a glass room partition, which adds a touch of elegance to the overall decor. The narrow office space is furnished with a wooden desk and a black chair that fits perfectly into the space. Additionally, there are built-in cabinets and shelving in an awkward alcove, which provides clever storage solutions.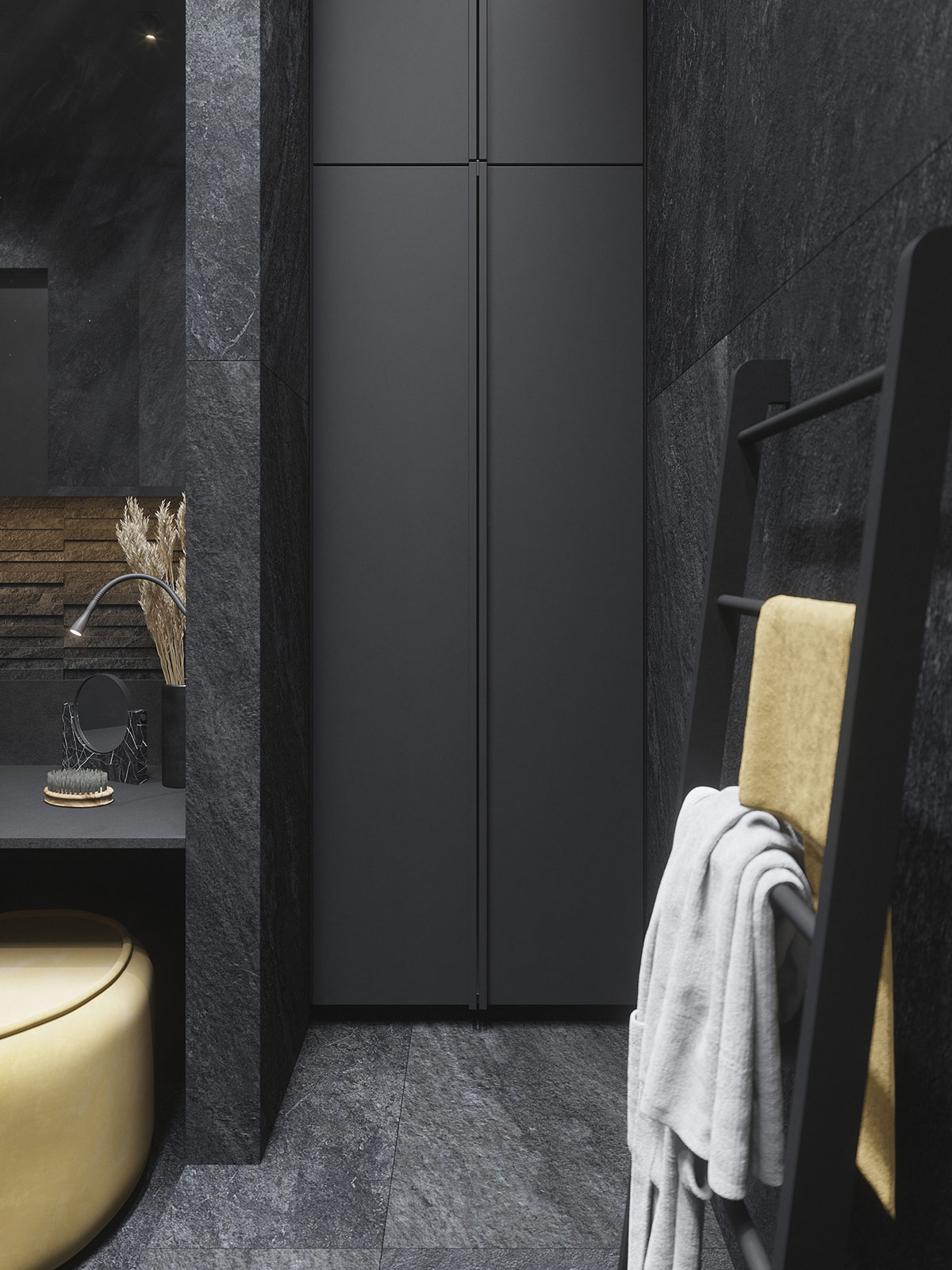 The bathroom features a seamless integration of black storage units and textured wall tiles. To add some contrast, subdued yellow accents have been incorporated to bring a touch of brightness without being too overwhelming. A black towel ladder holds yellow towels, while a yellow vanity stool complements a black dressing table.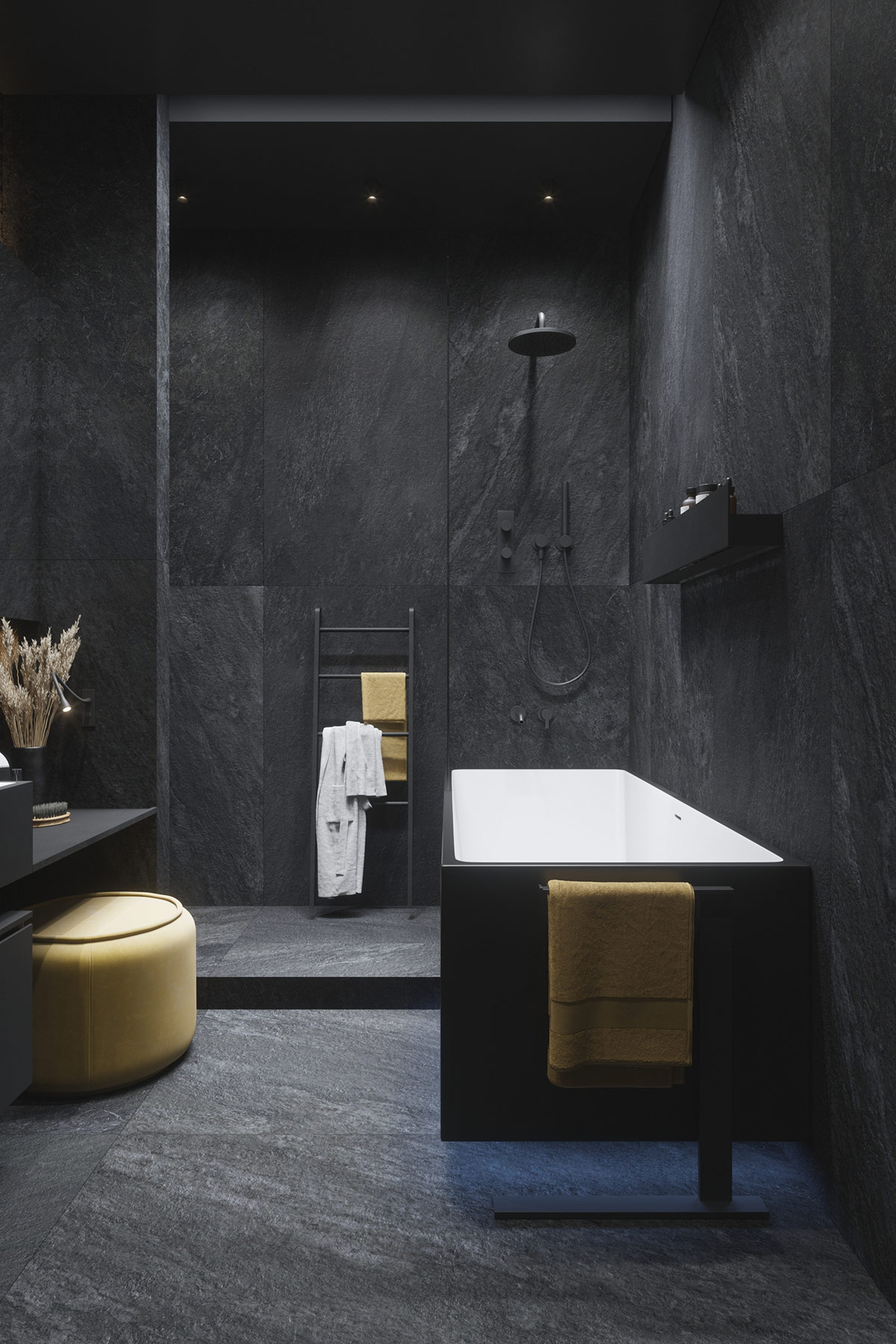 A bathtub is outfitted with sleek black shower fixtures.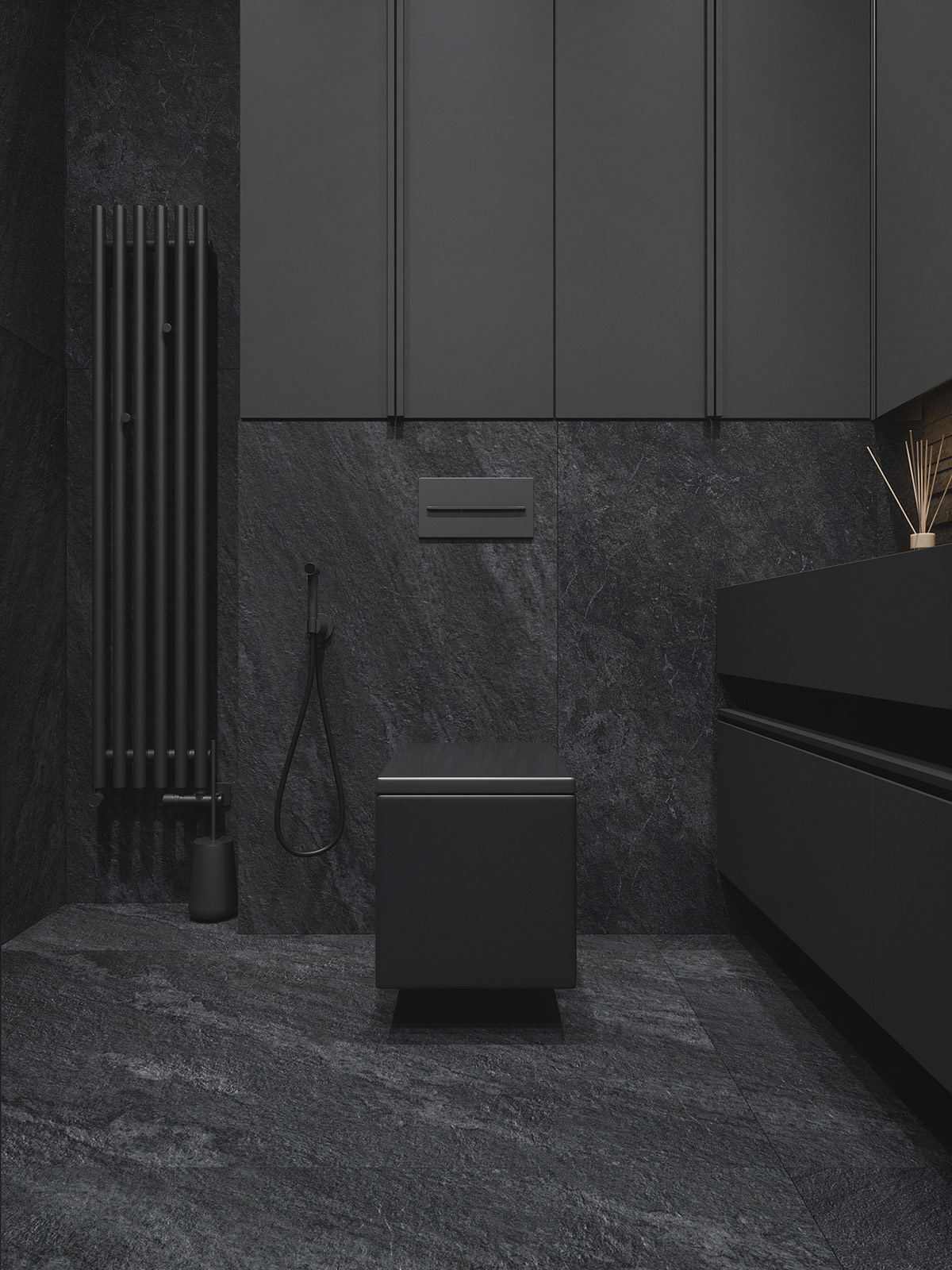 The dark hue of the toilet seamlessly merges with the dim lighting in the room, but its distinct square shape casts noticeable contrasts.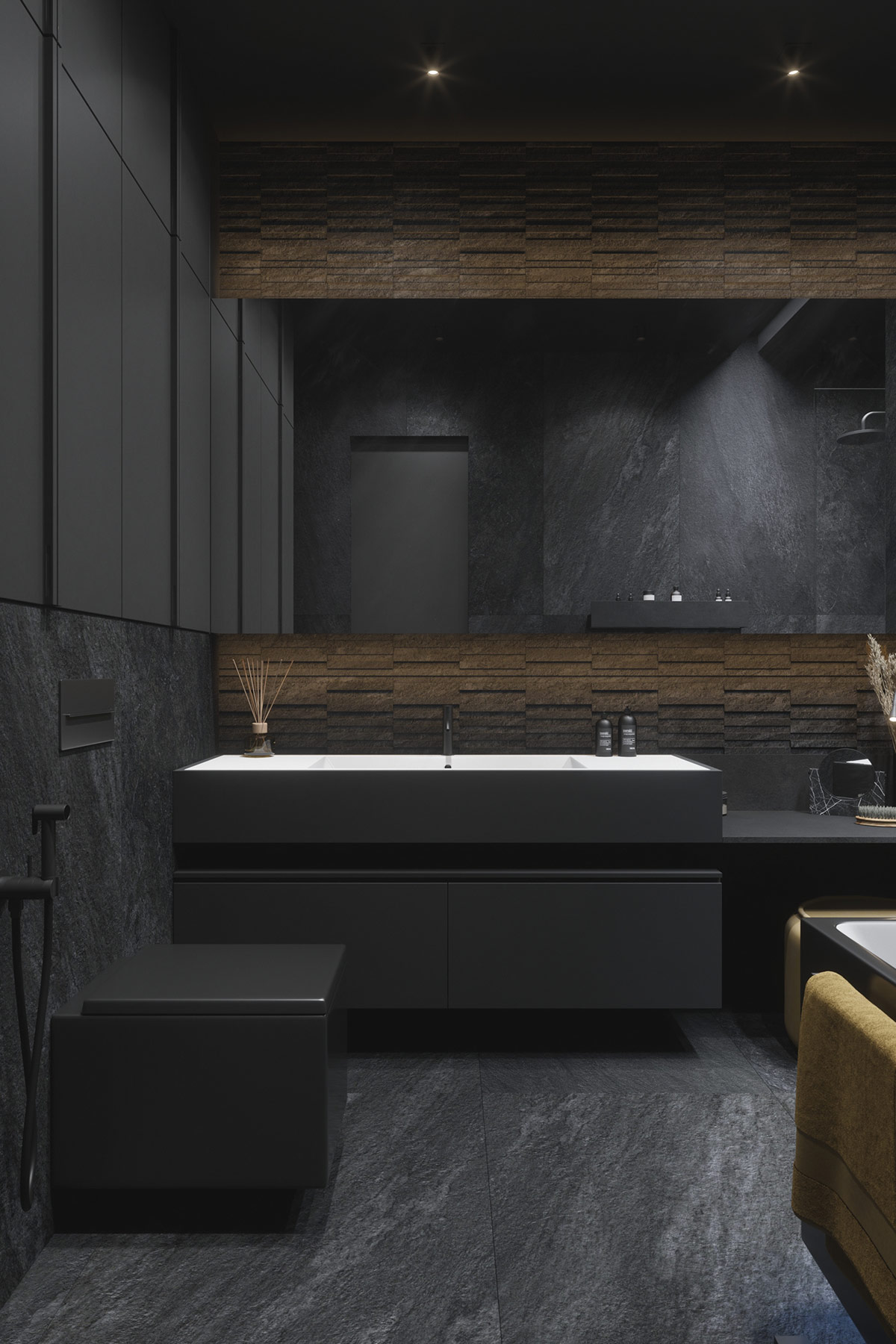 The bathroom vanity area gets a fresh, unique look with the addition of smaller wall tiles that create a new texture. A backlit mirror in the bathroom accentuates the 3D effect and adds to the overall ambiance.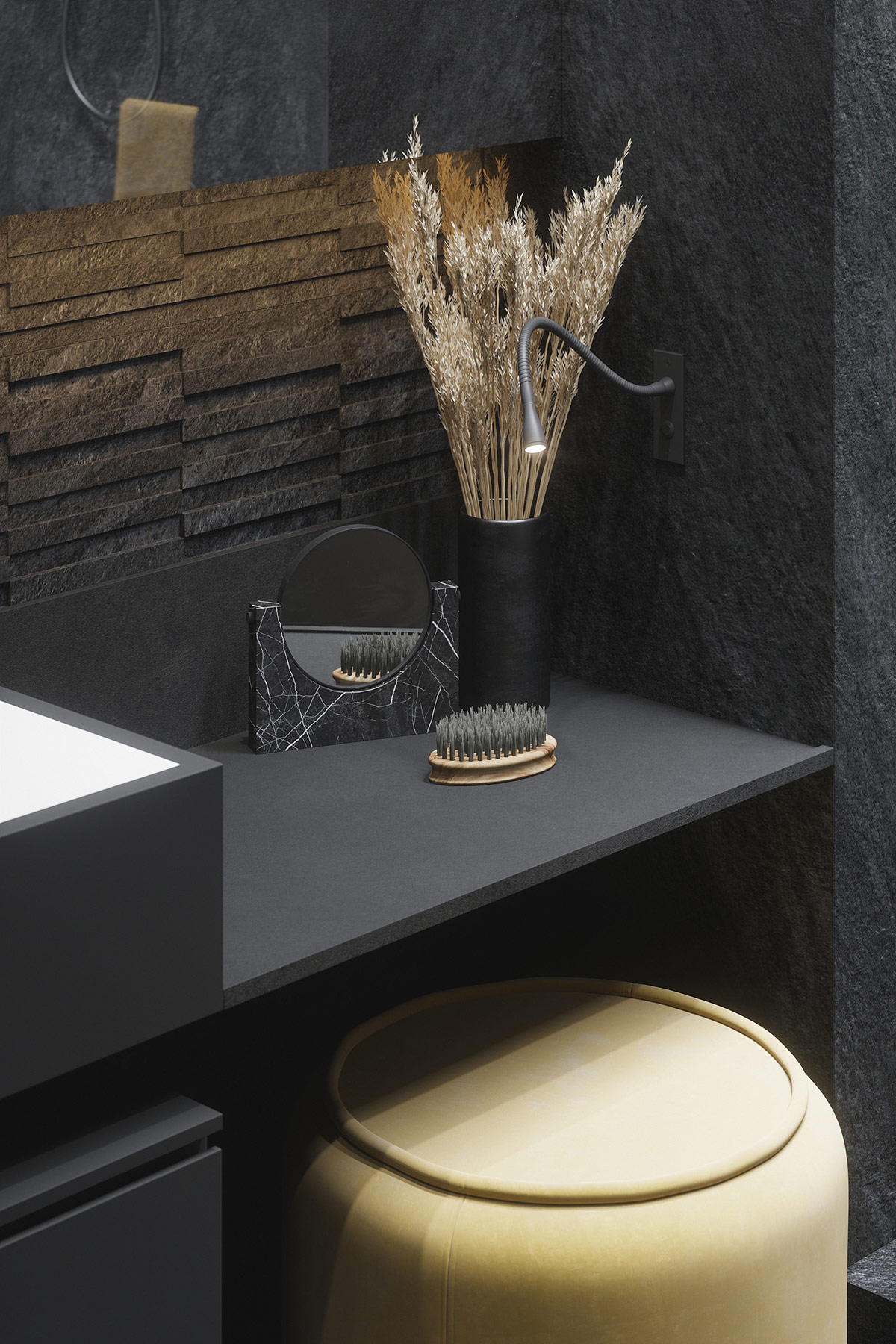 A wall light that can be adjusted is an excellent choice for providing adequate lighting for tasks performed at a vanity table. This kind of lighting can easily be directed to where it is needed most.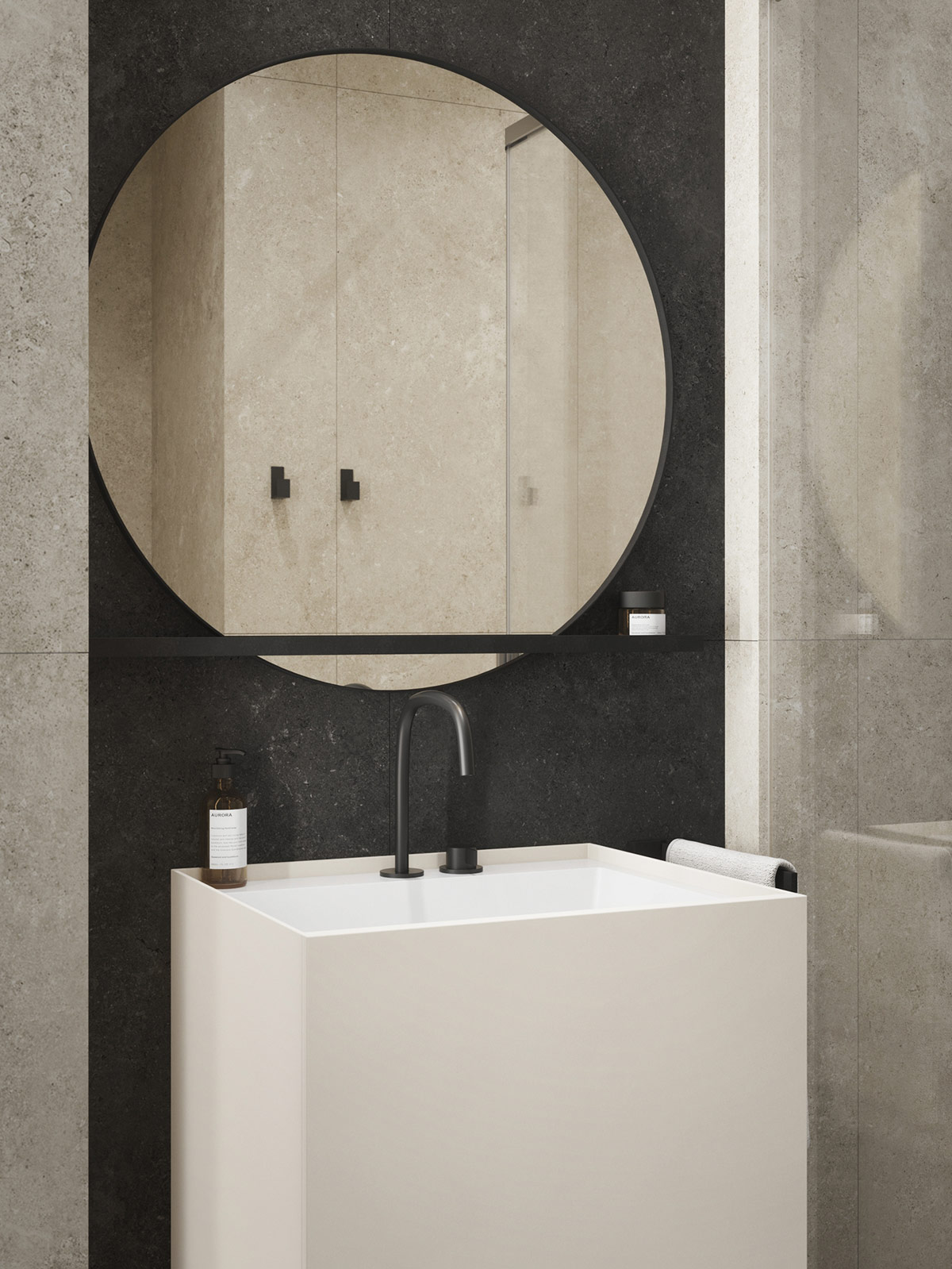 The bathroom designated for guests boasts a more subdued look. The color scheme is mainly black and white, which results in a clean and crisp appearance.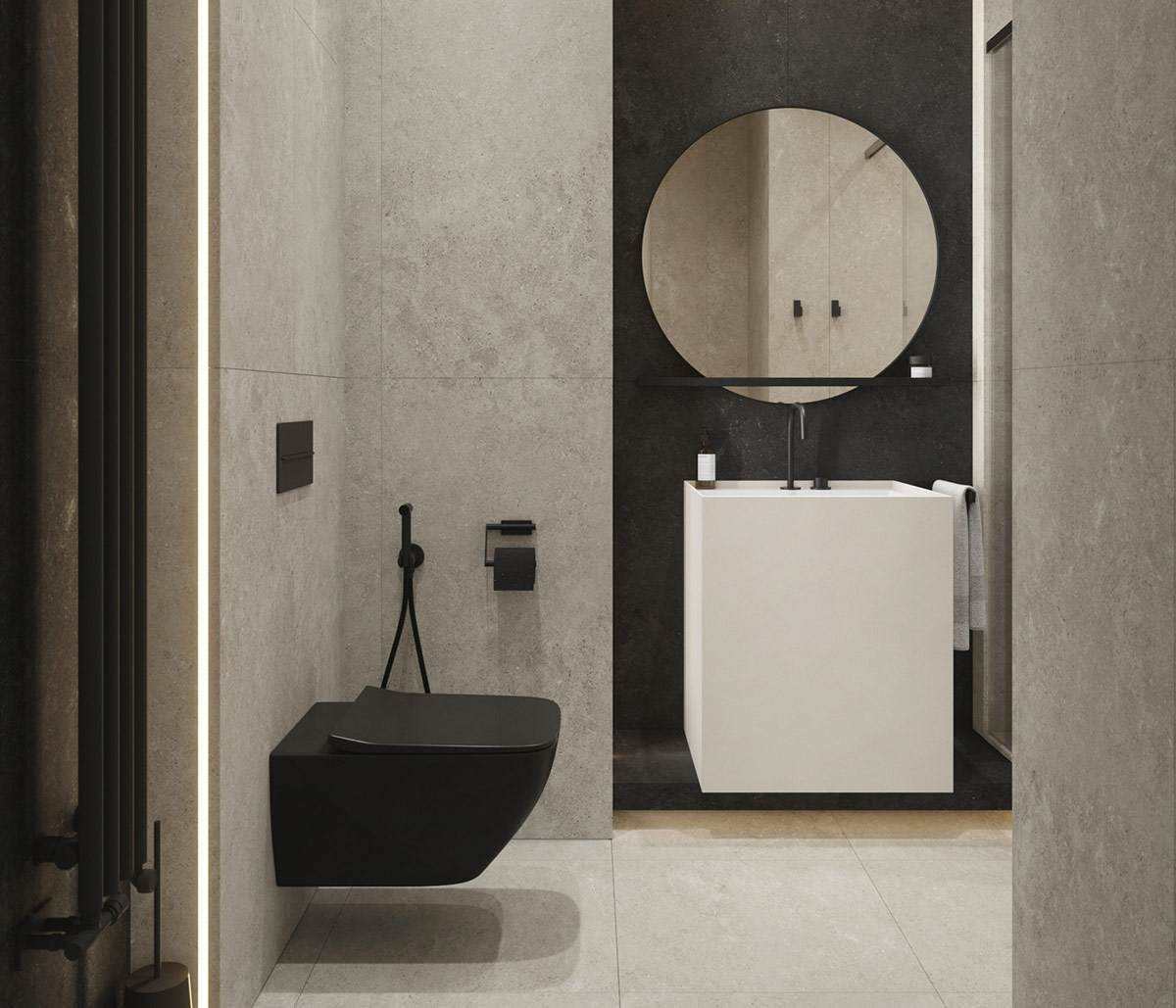 To create a more open and roomy floor space, it's common to install bathroom furniture and sanitaryware on the walls. This not only looks sleek and modern, but also frees up valuable floor space for other uses.