Despite its cerebellar impairment, the small cat may seem a bit wobbly while walking, but it continues to live with unwavering determination just like any other regular cat. The most adorable part is that its furry buddy doesn't notice any differences and treats it with the same love and care as it would any other feline.
Meet Derencho – the cutest feline ever with a one-of-a-kind condition called CH!
In 2012, a little kitten was brought to the Friends of Felines Rescue Center (FFRC) by a family on Independence Day. The kitten, just seven weeks old, was born in a pile of wood, and unfortunately, had a neurological condition called Cerebellar Hypoplasia (CH) that affected his balance and movement. Despite this, the kitten, named Derecho by FFRC, remained optimistic and cheerful. His mother had left him behind when she moved her litter, but fortunately, the caring family who found him brought him to FFRC in Defiance, Ohio. The town had recently experienced a storm known as a derecho, and inspired by Derecho's resilience, the staff at FFRC decided to name him after the Spanish word for "straight ahead" or "direct".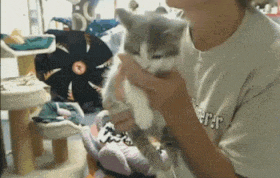 Jacci reports that Derecho was among the first CH cats to come to FFRC. Even though he has a medical condition, he acts just like any other cat, and he's turned out to be quite remarkable. Everyone at FFRC affectionately calls him the "D" Man because he's exceeded all expectations since he arrived there.
This kitty has become quite the expert at balancing by using its flexible legs. Although it may wobble and slip, it never gives up on its goal and continues to push forward with unwavering determination. This exceptional feline possesses a compassionate heart and has even lent emotional support to those who require it. Derecho is now a full-grown cat, having matured with time.
At FFRC, there's a popular cat named Derecho who's often referred to as the favorite Uncle of many kittens. He's widely known for his incredible nurturing abilities, which involve bathing and taking care of numerous young cats. His calm and caring demeanor has earned him the nickname of "peacekeeper" at the facility, where he's dedicated to providing rescue kittens with endless love and tender care.
The FFRC team has been motivated by Derecho's experience and is now committed to supporting other cats with CH. Jacci expressed that they were moved to help others after seeing how happy and satisfied Derecho was under their care. Their goal is to spread happiness to other felines with CH and offer them the same level of care and attention.
Over the years, FFRC has provided a home for many cats with special needs, and fortunately, a lot of them have found caring, permanent homes. Derecho is a remarkable cat who serves as an inspiration to those around him due to his unwavering spirit. Despite facing many challenges, he remains optimistic and doesn't waste time feeling sorry for himself. Additionally, he loves to play! One person undergoing chemotherapy even keeps a picture of Derecho close by as a way to stay motivated and persevere. If Derecho can overcome obstacles, then so can they.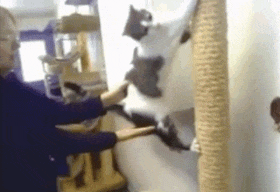 Derecho, a resident feline at FFRC, has captured the hearts of many volunteers who consider him their own. He has taught them the importance of cherishing life and the power they possess in creating their own experiences. Despite enduring a storm, Derecho has become a beacon of hope and positivity for those he encounters.
Derecho successfully climbed up the tall oak tree without any assistance and made it to the third level.